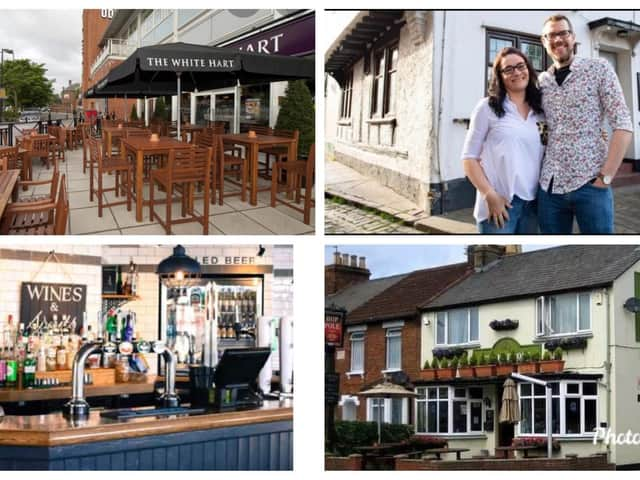 Aylesbury pubs
This week we spoke to managers and landlords and a selection of Aylesbury pubs, and found out what hoops they have had to jump through to make it to re-opening day.
So here is what you can expect from a trip to your local boozer during the coronavirus pandemic...
The Rockwood will be opening again at 12 noon on Saturday having followed the government guidelines to keep customers and staff safe.
Bosses have mapped out markings on the floor to keep the metre distance rule adhered to and have hand sanitiser stations throughout the pub.
Landlady Emily said: "Although we have had to remove two tables from the bar area, we've actually managed to increase capacity through refurbishing our outhouse into an amazing space for customers to chill out in.
"We are very excited to be reopening and can not wait to see everyone again."
The Hop Pole is also opening on Saturday, but for the first few days of trading will keep a bookings only policy. You can book your space at the pub by calling 01296 482129.
Landlord Ian Matthews has decorated the pub during lockdown, and all risk assessments have been carried out. On arrival people will have to sign in, and he hopes that the re-opening will go as smoothly as possible.
He said: "We are here to make sure that everyone is safe, and that everyone is comfortable too.
"If when people come they have suggestions we are very much open to those as well. We just want to re-open and keep going now.
"We are really looking forward to seeing everyone."
Dan and Emily at The Rockwood
Staff at The White Hart and The Bell, Aylesbury's two Wetherspoons pubs have also been working hard to welcome customers back on Saturday.
Wetherspoons already operates an app system for ordering so customers will be encouraged to use that where possible.
Staff have also been working hard this week to instal perspex screens, socially distanced queuing systems, and other protocols which will make the pubs able to reopen bright and early at 8am on Saturday.
The White Hart, which previously operated at a capacity of 650 will now be down to 200, and managers and a special door security operation will ensure that this limit is not exceeded.
In the kitchen staff will wear facemasks, and there is also an option for table service and in-house staff to wear masks too if they wish.
White Hart manager Gemma said: "We are really looking forward to Saturday and seeing all the familiar faces.
"We hope that everyone will come out as we have worked really hard to make it as safe as possible for everyone.
"I hope that everyone who comes will abide by what we have put in place, and respect the hard work we have put in to do this."
The Watermead Inn will open at midday on Saturday for food and drink, and owner Kelvin Wong says he is really looking forward to it.
The pub has reduced table capacity, installed a queuing system and has a one in one out policy for the toilets.
Staff will also wear PPE, there will be more outside seating and hand santiser will be available for both staff and customers throughout the pub.
Kelvin said: "I am really looking forward to it, we have been shut for so long. We have been doing takeaway but that really isn't enough because the pub is an expensive place to run.
"The one metre social distancing rule change has helped our industry immensely, but people still have to be responsible. No binge drinking or hugs!"
The Millwrights will re-open on Sunday instead of Saturday, and landlady Liz Hind asked for customers of all pubs to be patient with landlords as they adjust to the new rules.
Parts of the pub have been decorated during lockdown, and staff have undergone corona awareness training. Tables have been removed and the pub will operate two metre social distancing until the situation has been fully assessed.
Liz said: "We feel that the news came too quickly, so are moving with caution on this. I think that the way that Boris Johnson and Jacob Rees Mogg are talking about it is really irresponsible.
"Do not under any circumstances order a yard of ale! As an industry we need to discourage people from going on pub crawls.
"This is going to be all about doing it sensibly and one step at a time. Please bear with us!"
The historic King's Head is now taking bookings for drinks and food at the weekend too.
A spokesman for the pub said: "We look forward to welcoming you when we re-open the doors to our pub; you have been sorely missed by us and our team, and we are excited to see you again!
"Until we can meet again, we are taking steps to make sure that you and we are safe. As a result, some things will have changed a little, but you will still enjoy a welcoming environment and fabulous beer and food, as you always have.
"One such change is to ask you to book in advance for drinks or food, either via our website (www.kingsheadaylesbury.co.uk), or by phone 01296 718812, selecting the day, time (and length of stay) and numbers in your group."
In the courtyard and inside the pub staff have set the distances table-to-table at 6ft/2m and seating is arranged to following the Government's guidance. A one-way system is also in place with separate entrances and exits. And full table service will be provided.