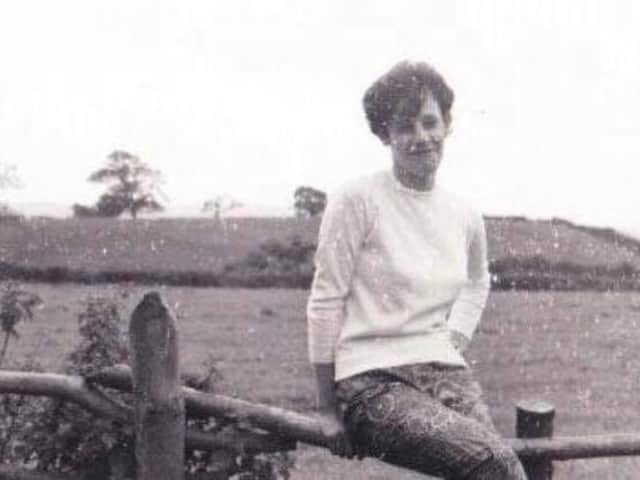 Rita Ellis was murdered at the RAF Halton on November 11 1967
At the time the horrific crime shocked the Vale, and Rita's family have been left with lasting scars, desperate for justice for the shy but determined teenager.
This newspaper has been investigating Rita's murder, in an effort to help support Thames Valley Police's cold case team by uncovering new information which could assist their investigation.
We have published a number of appeals, and would like to thank the scores of you who have come forward and shared memories from that time.
A newspaper cutting from the time
Our investigation and efforts to support the police continue.
In the run up to the anniversary we spoke to Rita's sister Tina Streeter, who described with love her relationship with her sister, the impact that the tragedy had on her family, and her deep desire for Rita's killer to be found not just for Rita but her mother's memory too.
Tina Streeter was just ten years-old when her sister Rita Ellis was murdered, in 1967 at the RAF Halton Camp.
The shy 19 year-old had fairly recently joined the RAF after a stint working at a local toy shop, and although the family were all very proud, Rita's exit from the family home in Stevenage was having an impact on the young Tina, with who she used to share a bedroom.
Rita's sister Tina Streeter issued a heartfelt appeal this week, in memory of Rita and her mother
Tina said: "It was really odd when she left home, I remember she came home to visit one of the times and I was so excited to see my sister, but then it was my bed time and I was sent to bed!
She added: "She was shy and was very beautiful and had a huge mop of black hair. "We had bunk beds and we had the smallest room in the house because my older brothers had the bigger one. When she was away I used to write letters to her on the camp, I still have them because they were returned to the family after what happened."
But the family dynamic changed forever on November 12 1967, when police knocked on the door to tell Tina's parents the unimaginable news that Rita's body had been found on land close to the RAF Halton Camp.
Rita had been strangled with an item of her own clothing, and sexually assaulted. Items that she had packed for a night of babysitting for Wing Commander Royston Watson and his wife lay strewn around the wooded area.
Rita Ellis was just 19 years-old when she was murdered
Speaking about that day Tina said: "I will always remember that day. "Someone came to the door on that morning, it must have been a detective and I was ushered out of the way. I didn't see my mum again for ages.
"Then I was told that she wasn't coming home, my brothers were the second eldest so they were saying things to me to try and lessen it, I was the youngest. "My school were told but I wasn't allowed to go to the funeral."
Following Rita's murder police launched a full scale murder inquiry, and detectives from Scotland Yard joined the hunt for the killer. Thousands of people both from the RAF Halton camp, and other local residents were questioned at the time, but to this day Rita's attacker has never been brought to justice.
At Rita's inquest the coroner commented that the murder must have been committed by someone with tendencies of 'psycopathy'. At that time DNA testing was not possible, but Thames Valley Police holds a DNA sample from the perpetrator taken from the crime scene, which could hold the key to finally solving the mystery once and for all.
The theory is that while waiting to go babysitting close to her barracks block, Rita got into a car which she believed was her lift.
However, there was a disco taking place at the Halton Camp that night, and it is thought that the car was being driven by the perpetrator of the crime.
Tina said: "She was trusting, but she was always a very strong person and she was tall. "I've always thought how could one person overpower her? She really wasn't a mouse." And understandably for the Ellis family it was very hard to move on with their lives, particularly for Rita's mother who suffered from a number of disabilities, and died on November 11 1994, the anniversary of Rita's death.
Tina said: "It was almost like we had to lose her on that day for her to join Rita, I've always thought of it like that." And losing her sister had a lasting and profound impact on TIna's life too.
Speaking about reaching the same age as Rita, Tina said: "When I was 19 I was nursing and it was really weird. "I was always looking over my back, but my dad said that lightning doesn't strike in the same place twice.
"It was a nervous time, my brothers and dad didn't really want to talk about it, but my mum and Rita were so close. "I never had any children, but Rita would have had a shed load and my mum always used to say ' I would have been a grandma by now'. "I was going to go into the forces and I was going to go and do nursing in the army, it was what I wanted to do but my mum got so upset about it."
In 1978 Tina moved to the south coast, where she still lives with her husband Terry.
The rest of the family stayed in Stevenage and it was a pull to leave the family unit behind, but Tina says that she wanted to get away to really live life, for herself and for her sister's memory.
She said: "I think it must have hurt mum when I left home in 1978, but I wanted to experience life and I wanted to do that for Rita too, I wanted to experience real life for both of us because she was only just starting to do that."
In 2017, on the 50th anniversary of Rita's death Tina went to RAF Halton to see her sister's old barracks, and learn more about her life on the camp.
She also took part in a police appeal, which resulted in people coming forward and a number of DNA tests being carried out on suspects.
Unfortunately a match has not yet been found and Tina hopes that this heartfelt re-appeal with convince others to come forward too. Speaking about going to RAF Halton for the first time, Tina said: "I was upset for a bit, but it was a good experience. We went round the barracks and Hut Block 7 where she lived. The police did ask me if I wanted to go to where Rita was found but I didn't need to do that.
"I would like to thank everyone who has thought about Rita and cared about Rita for all of this time. I would also like to thank Thames Valley Police's cold case team.
"I look forward to the perpetrator being caught and paying penance for what he has done. He didn't just take Rita's life, he wrecked a whole family's lives and he robbed us all. "Please do get in touch if you know anything, no matter how insignificant you think it may be." She added: "I'm hoping that Rita and Mum will be watching."
Peter Beirne of Thames Valley Police's cold case team also echoed Tina's appeal, and urged anyone with information to come forward.
He said: "We continue to work on Rita's case, locating people that were named in the original investigation and obtaining mouth swabs from them.
"If any person has any suspicions or concerns that an individual may be responsible, I would urge them to make contact with us, as a DNA swab can easily be obtained.
"We have even eliminated a number of people who had passed away since the murder, by visiting close relatives and using their DNA to compare with what we have.
"So if anyone has information, please contact us."
If you have information that you think may help in this inquiry please contact Thames Valley Police by calling 101 you can also email [email protected]
Alternatively, you can speak to Herald editor Hayley O'Keeffe in confidence by calling 01296 619718 or emailing [email protected]