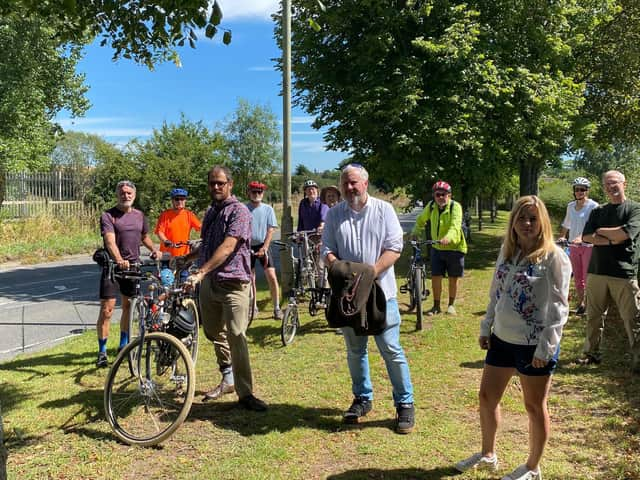 Protesters at the site
They were protesting about the withdrawal of funding by the Oxfordshire Growth Board for the scheme, which they say is badly needed by both communities.
A recent survey has identified over 90% support in the communities for this route, which would be an important safe corridor for the many commuters that use Haddenham & Thame Parkway station, as well as those that want a safe and healthy alternative to driving.
Haddenham Parish Councillor Jim Brown said: "This is a very busy road. If you're trying to cycle it's a risk, therefore the only option is to take the bus or bring your car in, adding to road congestion and pollution."
The scheme was supposed to span the Buckinghamshire - Oxfordshire border and had been a long-held aspiration for local communities and authorities.
The Buckinghamshire Council website says on the scheme: "The A418 currently acts as a major barrier to safe opportunities for walking and cycling between Haddenham and Thame.
"The delivery of an off-road walking and cycling route would reduce congestion on a heavily used part of the transport network by substantially increasing the potential for sustainable travel along this corridor.
"The route would also enable connections to the wider network of existing and proposed walking and cycling routes."
Thame District Councillor Kate Gregory said: "The residents of Thame are disappointed and frustrated that we've kept our end of the bargain, we've built the houses and the money has been taken from us."
Buckinghamshire Councilor David Lyons said: "At a time when we are being exhorted to get more physical exercise, to use public transport less and to drive less, this is a facility that is urgently needed and the suggestion that it can be pushed into the long grass because of arbitrary funding decisions is absolutely crackers"
The Oxfordshire Growth Board have been approached for comment.