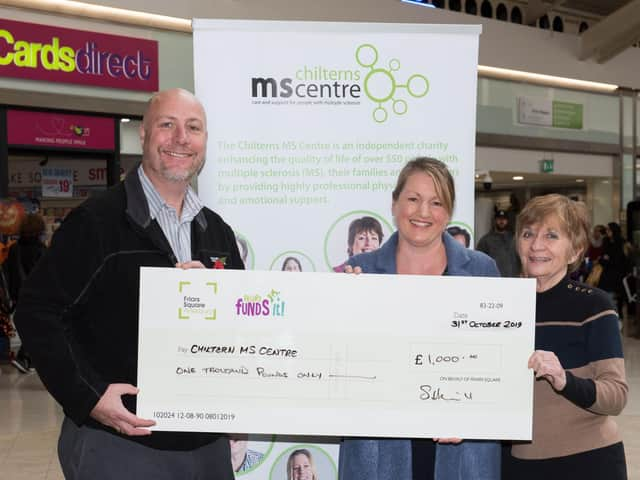 Friars Square present a cheque to Chilterns MS Centre
The charities have benefited from the latest awards from Friars Funds It – an initiative launched by the shopping centre in 2018 to support community groups and local charities.
The money is raised by staff during events in Friars Square.
The Chilterns MS Centre has been awarded £1,000 to reupholster the physio beds in the treatment room at its Wendover base. The charity helps more than 550 people with multiple sclerosis and also offers support to their families and carers.
Cheque presentation to Wheelpower
Wheel Power was awarded £500 to continue helping disabled people to play sport and lead healthy active lives.
The charity, based at Stoke Mandeville Stadium, introduces disabled children to sport and supports newly paralysed patients to find ways of staying active and healthy during and after injury.
Little Acorns Kindergarten in Wendover received a £1,000 grant towards updating its garden area.
The grant will buy more play equipment and creative outdoor storage at the not-for-profit pre-school.
Friars Square centre manager Andy Margieson said: "We are delighted to give out awards to three fantastic local charities.
We hope that these donations will help them to continue to carry out their valuable work.
"I would also like to thank our shoppers for their generous donations to the fund over the past year and our staff for their enthusiastic fundraising."
Chilterns MS Centre corporate fundraising manager Sharon Cooper said: "We would like to thank the team and all their customers at Friars Square shopping centre for their incredibly generous donation of £1000.00 which will enable us to re-upholster our physiotherapy beds.
"We have more than 550 members with MS, which is an unpredictable and often disabling disease with no known cure.
"Many symptoms can be treated with physio, hydro, oxygen, complementary and occupational therapies, which is where the Centre plays a big role in helping our members lead happy and healthy lives.
"Your donation will make such a difference to the comfort and wellbeing of our members, without your support we would not be able to do this."
Wheel Power community fundraiser Leah Lewis said: "Your support is invaluable to ensuring we can continue our life changing work. From our Tour de Vale with promotional stands to recruit riders, to your wonderful donation. We simply can not do this without you."