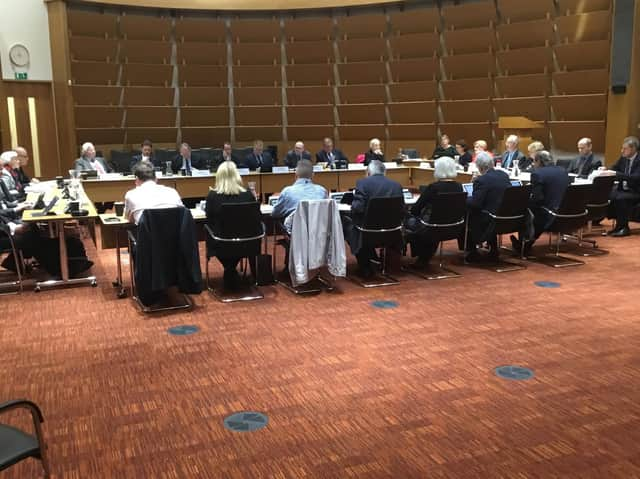 A historic photograph of the Buckinghamshire Council cabinet before the Covid-19 outbreak
This means that at the most local level, town and parish councils will find it harder to have an effective say on developments in their area.
Under previous rules parish and town councils had the right to call in decisions, and make representations on planning applications.
It is unclear why this decision, which is written into the new Buckinghamshire Council's constitution has been made.
If they do want to comment town and parish councils must now go through public access like everyone else. And to call-in a decision they must seek the support of a Buckinghamshire Council member who will do it on their behalf.
Aylesbury Town council leader and planning chair Richard Lloyd has expressed his concerns about the changes, saying that they flying the face of the new council's claim that localism is at its heart.
Parish and town councils have previously been encouraged by the Government to put together neighbourhood/local plans, which set guidelines for acceptable developments in their areas.
But there are fears that these documents will not be worth the paper they are printed on, if parish and town councils can no longer challenge decisions directly.
In a letter from The Buckinghamshire Council's legal team which has been seen by The Bucks Herald, the council attempted to explain the change in rules.
An extract from the letter, which was sent to Councillor Robin Stuchbury, reads: "In relation to call in - although town and parish council's can no longer request a call in, any Buckinghamshire Councillor can request a call in of a planning matter via public access.
"If the call in proceeds town and parish councils who have been consulted on the application and who have made a written representation will be invited to speak at the first planning committee."
Richard Lloyd said: "There are a number of reasons the Towns and Parishes are unhappy with the changes.
"The first being that there was no consultation, announcements or pre-warning that the changes were being made. This has left a number of towns/parishes in the position that they have stated their desire to appear before committee only to find that there is a new call-in procedure.
"Where a decision to change a process as key as this then where it is explained, communicated, consulted on and made there is at least some idea, that even if that decision is disagreed with that a Town/Parish has played a part in the changes.
"Localism is supposed to be one of the key tenants of the new authority and as such that means decision making and inputting into those decisions at a local level. Not only are Town's and Parishes statutory consultees, they know their areas and should be afforded the opportunity to input into decisions that directly affect them without having to rely on a 'friendly' County Councillor to persuade a planning officer to bring it to committee - that is whether the parish objects to OR supports an application. This feels like a disenfranchisement.
"There is a view that Parishes don't sufficiently understand planning regulations to be able to not waste the planning committee time with spurious objections, however in my experience with Aylesbury Town Council we have always sought to adhere to those regulations and only seek to address Committee when we felt there was a case to answer. We use the AVDLP as our guide and will continue to use the new VALP when it is, eventually, signed off. It's a right we have used sparingly over the years I've been on Parish Planning and I can't see that it has resulted in an excessive workload for the committee.
"I hope that the new Cabinet Member for Planning, Warren Whyte does as he has confirmed he will on Twitter and 'keep it under review' as we move forwards."
And Robin Stuchbury, who asked a direct question on the issue to the new council's legal team, said: "Having been a town councillor since 1999, and fortunate to be mayor of Buckingham, district member, county member and now a member of The Buckinghamshire Council, I have never known the likes of this.
"I have always had the greatest of respect for parishes, because who else better knows the community issues, than the parish councillors who are very much focussed purely on their parish and its wellbeing.
"Though I am awfully conscious of the privilege of being a Buckinghamshire councillor I hold myself in no great esteem.
"And the thought that parishes would have to seek my support to call in an application goes against my belief in local democracy. As I am foremost a local man who sees things in a local context."