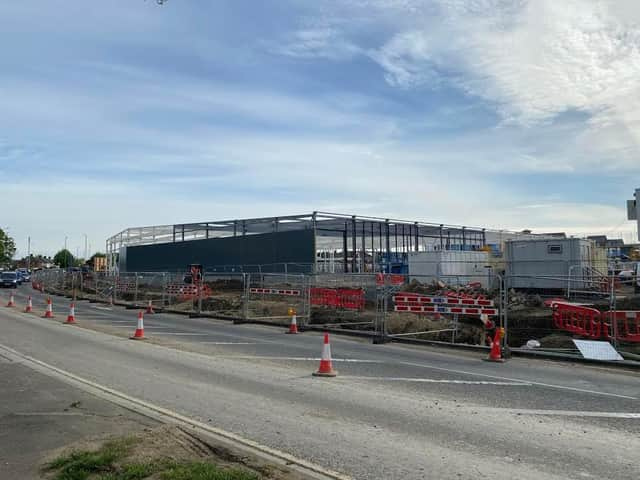 Concrete is ready to be poured
With the steel frame now complete, work has started on the roofing with glazing to follow. The build will also soon have a shop floor, with the concrete slab expected to be poured in the coming days.
The store will offer customers its renowned fresh food, its popular Tu clothing range and Habitat home products.
Customers at the 50,000 sq. ft store will also have the option to fill up their car at the new Sainsbury's filling station.
Once complete, the new Sainsbury's will create around 150 store jobs across a range of roles and levels.
Further information on working in the new store including position descriptions will be available on the Sainsbury's website (https://sainsburys.jobs/) in early August when recruitment commences.
People with a passion for food, a friendly personality and great attitude who are interested in working at Sainsbury's will need to apply online when the roles go live. Retail experience isn't necessary as all training will be provided for successful applicants.
The new supermarket will also play an active role in the local community and will be supporting Sainsbury's nationwide community programmes. In January Sainsbury's also announced an additional £1 million community fund for stores to donate to charities and other good causes in their local areas. This follows Sainsbury's 'Help Brighten a Million Christmases' campaign that raised £6 million in December for over 800 local charity partners, Comic Relief and FareShare.
Will you be visiting when it opens?
Sainsbury's Property Director Patrick Dunne said: "At Sainsbury's we're proud to give our customers a great shopping experience that is both exciting and easy for them to get great value food alongside our terrific colleague service. We appreciate the support of the local community for our new and exciting store and look forward to opening in time for customers to do their Christmas shopping."