Duke of Edinburgh students from Aylesbury school provide first aid to mountain biker in agony after suffering broken wrist
The students were able to support the man before the emergency services arrived on the scene.
Thursday, 24th June 2021, 10:09 am
Updated
Thursday, 24th June 2021, 10:10 am
Year 10 students from Aylesbury High School acted quickly to provide first aid and comfort to a fallen mountain biker.
On June 13 near to Dunsmore the biker was in significant pain and would later learn he'd broken his wrist.
The quintet of teenagers were on a Duke of Edinburgh expedition and thankfully had the goods to help out. As part of their Duke of Edinburgh kit, the pupils had painkillers and a first aid kit in their expedition pack.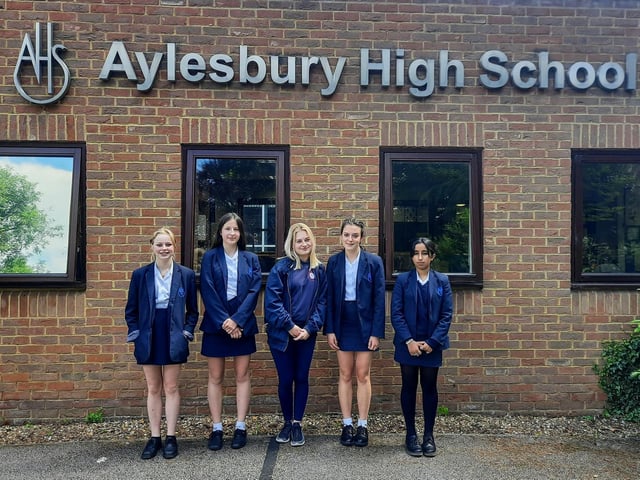 Lucy, Georgia, Lilianna, Avni and Katie from Aylesbury High School
Lucy, who along with friends: Georgia, Lilianna, Avni and Katie, was able to offer some comfort to the fallen rider, before the emergency services arrived, explained. She said: "We were walking along the trail when we came across a man and his son with their bikes beside them.
"The son was on the phone while the man laid on his back clutching his wrist in pain, we decided to ask if we could help as we had a grid reference and painkillers. As we were getting the painkillers out of the bag another pair of cyclists came along the path and stopped to help.
"Luckily one of them happened to be a physiotherapist and began to help the man support his wrist which later turned out to be broken, while we let him rest his head on one of our bags. After a while the man's wife arrived at the top of the hill so they helped him to the car while we watched their bikes, afterwards the physiotherapist thanked us and we continued with our walk."
It's a testament to the Duke of Edinburgh explorers good work that two of the parties involved sought out to thank them. Aylesbury High School were sent the following message: "I would like to offer my thanks to a group of young ladies who were on their Duke of E near Dunsmore.
"I was on a mountain bike ride with my best friend and his son when my friend had an accident and hurt his wrist. The girls came across us very shortly after and I have to say were a huge credit to both themselves, AHS and their parents.
"My friend was in a great deal of discomfort and subsequently we discovered he suffered a bad break requiring surgery. The girls were hugely helpful, caring and attentive - they were able to offer a first aid kit with pain killers and with one young lady offering her rucksack to support my friends head - they hung about til we were able to get my friend off to A&E I hope you can identify the girls, please pass on my huge thanks to the girls and let them know despite having a plate put into his wrist my friend will be back on his bike asap."
Once his wrist was getting fixed up and he was starting to feel better after the nasty break, the rider also reached out to say thanks. His message read: "Earlier this week my friend contacted you regarding an accident I had whilst mountain biking near Dunsmore and the help offered by a group of girls from your school who were on their Duke Of Edinburgh experience.
"I understand you have subsequently identified them as Lucy, Georgia, Lilianna, Avni and Katie and I wonder if you could please pass on my personal thanks and gratitude for everything they did to help me that morning.
"I was in a great deal of pain, however the girls kindness, offer of a first aid kit and painkillers amongst other things and general willingness to help in any way they could was very comforting to me at the time."