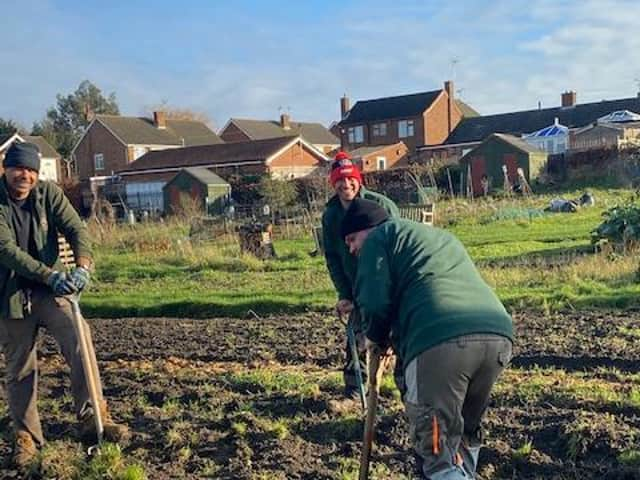 Preparing the allotment site to grow vegetables and fruit
The council, which manages seven allotment sites across Aylesbury has set aside plots on Crown Leys allotment site to grow produce for the Aylesbury Community Fridge.
The plots have been dug over and prepared by the council's outdoor team and are now being worked on by existing allotment holders from across the seven allotment sites who prepare, sow and harvest a variety of fruit and vegetables, which is then made available to local people via the Aylesbury Community Fridge.
The Community Fridge is an initiative operated by Aylesbury Vineyard Church.
It offers local people and businesses the opportunity to donate fresh, good quality surplus food, which may otherwise be wasted.
The fresh food and produce is made freely available for all local people to come, collect and enjoy at home.
The produce from the community fridge plot be donated, as well as surplus fruit and vegetables which the allotment holders can't use up themselves or distribute to their friends and family.
Melissa Stone from the Aylesbury Vineyard Church, said: "Aylesbury Community Fridge is thrilled to be collaborating with Aylesbury Town Council and the local community on the allotment project. By working together, we are stewarding the food grown effectively, distributing from local growers to people in the local area, fostering a spirit of sharing and developing community support and cohesion."
Mike Smith, the Mayor of Aylesbury, said: "The allotment project in co-operation with the Community Fridge is a great opportunity for people to try new things as some of our allotment holders grow fruit and vegetables which aren't widely available, such as Okra, Golden Raspberries, Kohlrabi or Romanesco Broccoli."