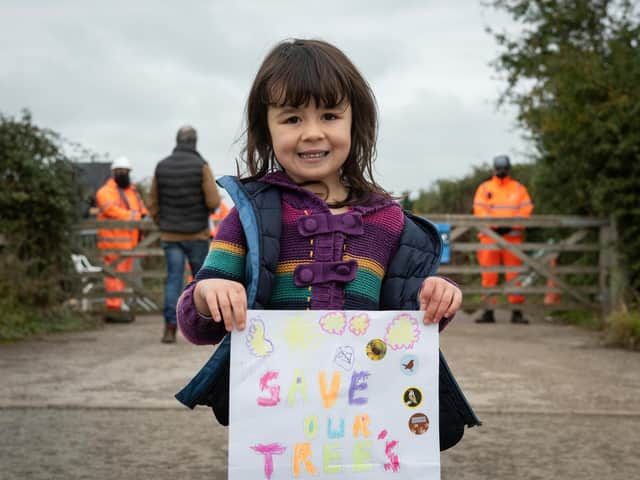 HS2 protest in Fairford Leys and Stone
HS2 works are set to be part of our daily lives for seven years, snarling up our roads and robbing the Aylesbury Vale of homes, livelihoods and wildlife habitats.
And this weekend, the latest in a series of protests by residents who have had enough already saw it's greatest attendance yet.
The weekly peaceful protest in Fairford Leys and Stone is organised by Sue and David Stopps, and on Saturday morning around 70 people, including families with young children turned out to support the cause.
HS2 protest in Fairford Leys and Stone
HS2 sent along National Eviction Team members, who were questioned about their attendance at the peaceful event, and attendees chanted "HS2 we want a review" as drivers of passing cars honked their horns in support.
The event was also attended by Aylesbury's Conservative MP Rob Butler, who gave a speech to the assembled campaigners, and offered his support to the cause.
David Stopps, who is also co-founder of the town's Friars Music Club, said: "We are not going to give up protesting and will keep the pressure up, but I am determined that it will always be done in a totally legal, family friendly way.
"We were surprised to see the National Eviction Team at this event as children were present, but it was great to see Rob Butler and we are happy that he supports us.
HS2 protest in Fairford Leys and Stone
"He came along with councillor Andrew Cole, and afterwards they went to The Bucks Goat Centre to see how HS2 is affecting life there."
The Bucks Herald is leading the online HS2: Enough Is Enough campaign, where you can see details of works and actions taking place in your area. To join click HERE
HS2 protest in Fairford Leys and Stone
David Stopps speaking at the HS2 protest in Fairford Leys and Stone
HS2 protest in Fairford Leys and Stone
Rob Butler, MP for Aylesbury at the HS2 protest in Fairford Leys and Stone
Rob Butler, MP for Aylesbury at the HS2 protest in Fairford Leys and Stone
Rob Butler, MP for Aylesbury at the HS2 protest in Fairford Leys and Stone