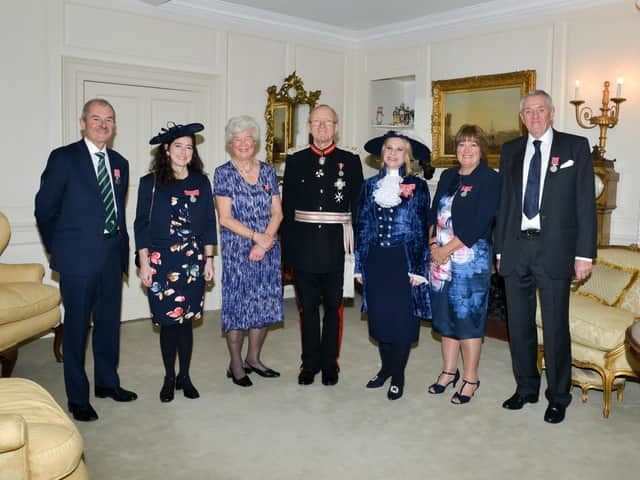 The five BEM recipients with Sir Henry Aubrey-Fletcher and High Sheriff Julia Upton
The award recognises their hard work and dedication to a variety of causes ranging from services to laboratory medicine and county cricket to works within their local communities.
The five individuals were:
-Kevin Beaumont, for services to minor county cricket
-Ann Bradshaw, for services to laboratory medicine
-Rhiannon Lawrence, for services to education
-Kathleen Martin, for services to the community in Chalfont St Giles
-Graham Peart, for services to the community in High Wycombe
The BEM recipients were presented with their medals by the Lord Lieutenant of Buckinghamshire, Sir Henry Aubrey-Fletcher at a ceremony at Penn House on Tuesday 19 November.
British Empire Medals are awarded to individuals for actions worthy of recognition directly from HM The Queen.
Kevin Beaumont's involvement with county cricket started in his teens and now spans more than 55 years. His interest in the game progressed from playing to umpiring. Kevin was founder member of the ECB Home Counties Umpire Panel, has been Secretary of Bucks County Cricket Club since 1988 and continues to umpire today in Premier League matches.
Kevin's main focus over the years has been to encourage men and women of all ages to get involved in playing and following county cricket. Reading his citation, Deputy Lieutenant Allan Westray said: "A very large number of people owe so much to Kevin for his encouragement and enthusiasm in helping them to enjoy and play cricket. Without a doubt, through cricket, and on a voluntary and unpaid basis, Kevin has helped foster community relationships throughout several counties."
Anne Bradshaw has dedicated her career to studying and exploring the area of science concerned with diseases of the blood. She started out studying a bio-chemistry degree at Liverpool but has gone on to work with pioneering medics in the fields of heart transplants and thrombosis and contributed many significant works and insights into the field of haematology.
Most recently Anne has been creatively involved with stem cell research and the regenerative properties it can offer to all parts of the human body. Isolating different white blood cells to treat a specific virus is an emerging and exciting piece of work and Anne has been at the forefront of developing techniques to harvest the cells.
Reading Anne's citation, Deputy Lieutenant Carolyn Cumming gave details of Anne's many achievements but also mentioned her people skills. She said: "Scientifically gifted, Anne has the rare quality of combining it with an ability to instruct, manage and mentor staff, whether they be junior trainees or senior consultants." Even when heading up the Laboratory Department in the late 1990s with 240 staff under her direct control: "She never lost sight of the individual and their personal contributions to the wellbeing of patients."
Rhiannon Lawrence's passion for her role as Chair of Governors at the Curzon C of E Combined School in Amersham has helped transform both the school and the governing body in her time in post. Her sensitive but firm approach has been welcomed and she has introduced a variety of new procedures and initiatives over the seven years she has been in post.
Rhiannon has also immersed herself into village and community life from setting up a new baby and toddler group when her own children were young to raising funds for charity and supporting elderly residents in Penn Street.
Reading her citation, Alexander Boswell, Vice Lord Lieutenant of Buckinghamshire said: Rhiannon is involved in almost everything which makes village life in Penn Street special, yet such is her self-effacing and humble manner that few people would know how crucial Rhiannon is to everything that happens in the village.
"Village life and it's school have been immeasurably enhanced by all Rhiannon has done and continues to do. The village of Penn Street is a richer place through her efforts."
Kathleen Martin enjoyed a busy career working in both the Royal Navy and also the Foreign Office but on retiring, decided to throw herself in village life in Chalfont St Giles. One of Kathleen's most significant achievements has been establishing Chalfont St Giles and Jordan's Literary Festival. The festival started in 2006 as a two day festival but has since grown into a biennial 13 day event which attracts renowned authors, academics and public figures from far and wide.
Kathleen's influence and involvement in village life as Chairman of the Chalfont St Giles Revitalisation Committee has seen her introduce a range of new projects and initiatives to benefit the local community from the construction of a wheelchair accessible footpath to giving a voice to local residents on matters relating to the village. She is also deputy chairman of the memorial hall committee and has been instrumental in raising funds to renovate the building to continue its use as a much loved local facility.
Reading Kathleen's citation, The Countess Howe said: "The village of Chalfont St Giles in immeasurably richer for the wide ranging contribution which Kathleen has made in so many different areas. She is a person who has put her community at the forefront of all that she does, never seeking the limelight and always willing to roll her sleeves up and get stuck in."
Graham Peart receives his BEM for services to the community in High Wycombe. Graham's first community work began with efforts to raise funds to install a new pitch and changing rooms at his local junior football club, Hughenden Valley. His love of football has also seen Graham become involved with Wycombe Wanderers, sitting on the board of directors and has overseen the club expand and thrive in the football league.
Graham's charity works are many and varied, he has been a member of the Princes Risborough Round Table and has been chair of the Rotary Club of High Wycombe since 2011. One of Graham's greatest achievements has been with the Wycombe Food Bank, which is now known as the One Can Trust. Under Graham's guidance the food bank has grown and thrived, developing into a community lifeline to many in High Wycombe. Graham is also one of the founding members of The Heart of Bucks Community Foundation which provides grants to hundreds of community projects every year.
Reading his citation, Deputy Lieutenant Debbie Brock said: "Graham Peart demonstrates citizenship at the highest level. His work in the community began over 35 years ago. His business acumen has enabled him to support community organisations, bringing economic rigour, energy and a will to succeed and in so doing, generate the most community benefit."
Speaking after the ceremony, Sir Henry Aubrey-Fletcher said: "I am truly astounded by the range of activities undertaken and level of dedication shown by these five Buckinghamshire residents here today. Without any doubt, they are worthy recipients of the British Empire Medal and on behalf of HM The Queen I would like to extend my congratulations and thanks to them all."
Anyone can nominate someone for an honour. The UK honours system recognises people for making significant achievements in public life and/or committing themselves to making life better for others. If you know of someone who you think is deserving then please visit the honours website and nominate them: https://www.gov.uk/honours