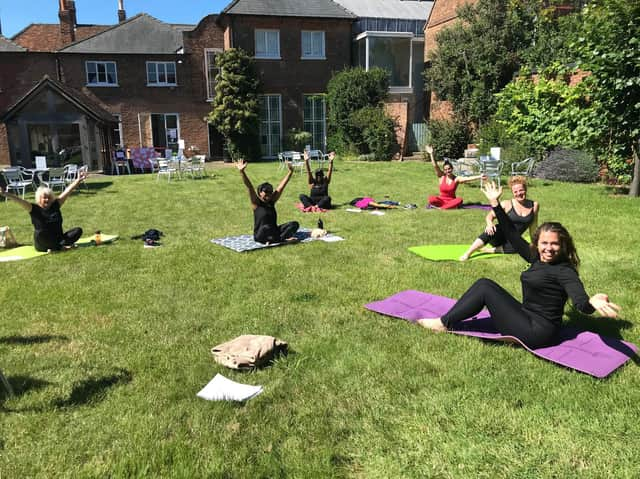 Yoga in the garden at Bucks County Museum
This week Bucks County Museum was able to open its doors again after closing for lockdown back in March.
To celebrate and enjoy the sunshine visitors went to the museum's garden for tea and cake, and were able to a yoga session with instruction by the fabulous Laila from The Fitness Garden.
The day marked the start of a summer programme on selected days offering Yoga, mindfulness, open gardens and family crafts all taking place in the Museum's popular Victorian walled garden on selected days. Our open gardens continue on Thursday afternoons (6, 13 Aug and Sept 3) with pop-up mini events, such as art and mindfulness.
Family Fun Garden Explorer sessions (Fridays and Saturdays) start on 14 August and include the Bank Holiday 31 August.
Visitors need to pre-book via the museum's website and admission is by donation.
The re-opening summer programme has been supported by Heart of Bucks Community Foundation with a grant of just under £5,000.
Sue Shave, Museum Director, said: "I am delighted that the museum has re-opened to welcome back our local community.
"We know that everyone has found lockdown difficult and the museum can help by offering a haven of tranquility, as well as exciting adventure with our amazing explorer family programme to get everyone out in the fresh air enjoying museum collections in the beautiful surroundings of the museum garden.
We are very grateful to Heart of Bucks for helping to make it possible to open for some of the summer"
On August 20 the museum will be honouring local Covid-19 heroes with a garden-party cream tea, and on August 27 a special event will be held to thank museum volunteers, who have been unable to work.