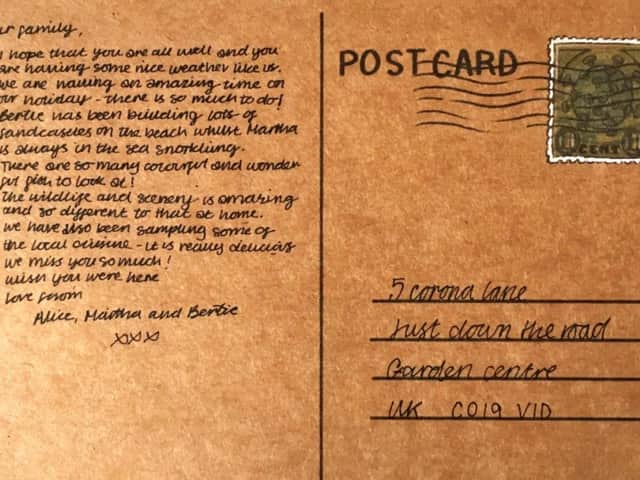 Rosie's winning entry
Rosie Wood scooped the prize which was set by Falmouth University's Vice Chancellor, Professor Anne Carlisle OBE.
Celebrity Dawn French, who is Chancellor at the University, helped select the winner as one of the judges.
The challenge was to create a non-digital A5 postcard that best captured the idea of human resilience, as displayed during the lockdown.
Rosie said on her winning design: "I took inspiration for my postcard after I went out for the first time as lockdown restrictions started to ease.
"Being at my local garden centre felt like a novelty after being stuck in for so long – just like going on holiday! Therefore, I started to imagine the kind of holiday activities you could do there.
"I was surprised to win and to be selected by Dawn French but I can now use my prize money to go towards a new laptop for my Illustration course at Falmouth University."
Set against the University's values of Creative, Connected and Courageous, ten challenges were set by each department at the start of lockdown in the spring. Several hundred entries were received from around the world, grouped into current students, applicants and year 12 students.
Each entry reflected the limitations of lockdown, using only everyday items, such as mobile phones, laptops, pencils, your body or simply words, with no limit but imagination.
Professor Anne Carlisle OBE, Vice-Chancellor & Chief Executive of Falmouth University said: "Thank you to everyone who responded to our challenges. Each entry embraced our values and showed incredible creativity and innovation in the face of lockdown. Congratulations to all the winners and runners-up!"
One challenge remains open. The Secrets: 60 Second Film Challenge closes on Friday 21 August 2020 with prize winners announced on 24 September 2020.