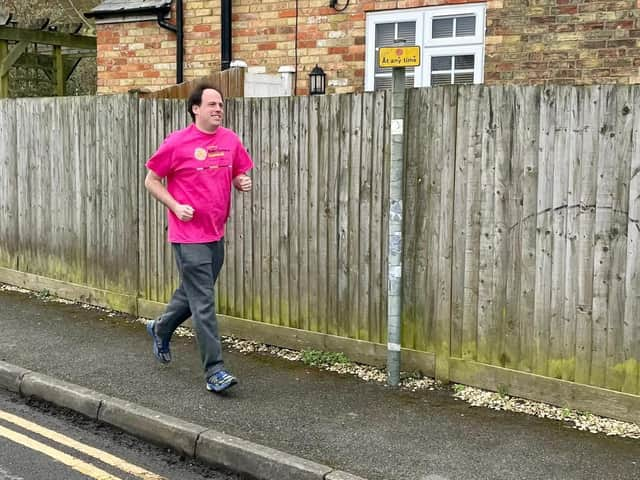 Buckingham MP Greg Smith is hoping to get a perfect 10 out of 10 as he takes on a challenge to raise vital funds for Brain Tumour Research.
Greg will cover a 10km distance 10 times around different parts of his constituency during March and April as part of the 10 for 10 challenge initiated by pensions minister and brain tumour survivor Guy Opperman.
Hexham MP Guy Opperman is marking the 10th anniversary of his treatment for a brain tumour by encouraging others to join him in fitness challenges for charity as a way of celebrating his survival.
Guy collapsed in parliament on 26 April 2011 and was diagnosed with a low-grade brain tumour and underwent surgery just a few hours later. Since then, happily the minister has not experienced any regrowth of the tumour.
It is a stark fact, however, that just 12% of brain tumour patients survive beyond five years, compared with an average of 50% across all cancers.
Greg is supporting Brain Tumour Research having been inspired by his Padbury constituent, Sue Farrington Smith MBE, chief executive of the charity. He said: "Hearing how Sue lost her niece Alison Phelan just three weeks before her eighth birthday back in 2001 and how treatments for the disease have barely moved on since then had a profound effect on me. A number of other families in my constituency have been similarly affected by brain tumours so raising funds for Brain Tumour Research through the 10 for 10 seemed like a great thing to do.
"I was shocked to learn that brain tumours have been so neglected when it comes to research and believe we need to narrow that gap.
"I haven't done any running for about eight years so my earlier 10ks will definitely be a mix of walking and jogging, but I am hoping that I can build up to at least running the whole of the last 10k. I hope people will feel inspired to donate to my fundraising page for this worthy cause."
Brain tumours kill more children and adults under the age of 40 than any other cancer yet historically just 1% of the national spend on cancer research has been allocated to this devastating disease.
Sue Farrington Smith MBE, said: "I am very grateful to Greg for choosing to support Brain Tumour Research and for helping to raise awareness.
"It's an exciting time with our campaigning at Westminster for greater parity of research funding with other cancers. More than 110,000 people have now signed our petition calling for an annual investment of £35 million into brain tumour research. We have just heard that MP Derek Thomas, who is chair of the All-Party Parliamentary Group for Brain Tumours (APPGBT) will be presenting the petition report personally to the Prime Minister.
"Our vision is to find a cure and bring hope to the thousands of families affected by a brain tumour diagnosis each year."
Brain Tumour Research funds sustainable research at dedicated centres in the UK. It also campaigns for the Government and the larger cancer charities to invest more in research into brain tumours in order to speed up new treatments for patients and, ultimately, to find a cure.