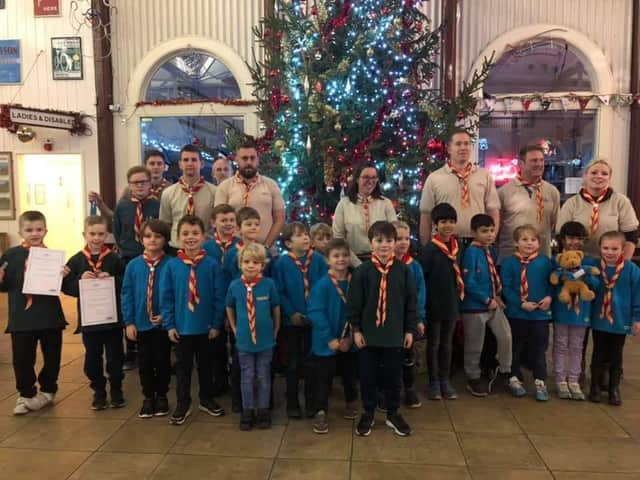 The new Quainton Beaver Scout group
Eighteen Beaver Scouts (boys and girls aged 6 to 8) were welcomed just before Christmas at the Buckinghamshire Railway Centre in Quainton.
The village's Scout Group had not had a Beaver colony for several years.
But with enquiries from parents and carers for their children to join, the group decided to run some taster sessions.
Children and adults poured through the door on the first evening. This continued for weeks two, three and four.
Yvonne Taylor, lead volunteer for Buckingham, Winslow and District Beaver Scouts said, "Week five was going to be the real test as we needed some adults to run the colony."
And their wish was granted because that very week several adults stepped forward and volunteered to run the group.
With all systems go, the new leaders sat down with some experienced leaders to plan an exciting programme for the children.
Hazel Jacobs, one of the new leaders said, said: "I volunteered as one of my children is of Beaver age and I've got two younger children who will want to get involved.
"The taster sessions were so positive with children and adults having lots of fun.
"I knew I wanted to continue to provide some exciting opportunities for the children in the village."
Jye Henderson, one of the newly invested Beavers said, "I liked making the bird feeder and the rice krispie cakes. I also like all of the games we play."
Lead volunteer for the Group, Martin Dorrell said, "We are hoping to open a Cub pack (boys and girls aged 8 to 10 and-a-half) in the New Year.
"We will be looking for some adult volunteers to help run the section.
"It is going to bring some opportunities for children to learn skills for life and have lots of fun and adventure."
For further information about Quainton Scout Group and if you have a Beaver, Cub or Scout-aged child that would like to join, please contact Martin Dorrell at [email protected]