Aylesbury's Waterside Theatre scoops two gongs at Bucks Business Awards
"These accolades are so appreciated by the team, not least because of the incredibly tough competition"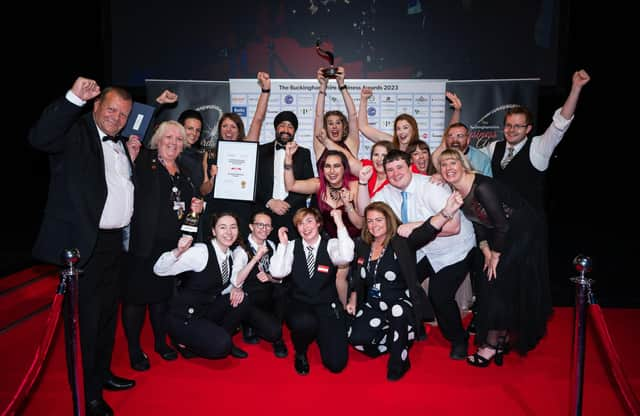 Aylesbury Waterside Theatre have triumphed at the 2023 Bucks Business Awards (Thu 21 Sep) winning two categories: Community Champion and Tourism, Hospitality and Leisure Business of the Year.
The local Bucks venue has hosted the annual awards since 2012, but this year the occasion was extra special as the theatre team found themselves as finalists for Community Champion (sponsored by Chandler Harvey), and Tourism, Hospitality and Leisure Business of the Year (sponsored by Stoke Poges).
Acting Theatre Director, Bekki Short said of the Waterside's success: 'This sort of recognition is hugely meaningful and a real testament to the whole team's passion and dedication. We are committed to delivering the very best experience to our audiences, and community outreach is something we work tirelessly on, and are extremely proud of. '
Last month the Waterside held their first Technical Theatre Summer School, next week they launch their first Storytime at AWT event for under 5s. Their dementia -friendly screenings remain vital for the well-being of many in the community, and in October, as part of their 13th birthday plans, they are launching a Food Bank Appeal in support of Youth Concern.
They also continue to support Stoke Mandeville Spinal Research in their 10th anniversary year and are once again offering Magic Tickets during the pantomime season - a scheme that enables families less fortunate to see the production this Christmas.
Bekki continues: 'We are extremely proud to be 2023 Bucks Business Award winners. These accolades are so appreciated by the team, not least because of the incredibly tough competition. We are lucky to be part of a thriving local business community and look forward to sharing our success with customers over the coming months, and indeed years. It was a night we will all remember for a long time.'
The awards fall during a record-breaking year where audience numbers have so far exceeded over 223k visitors.