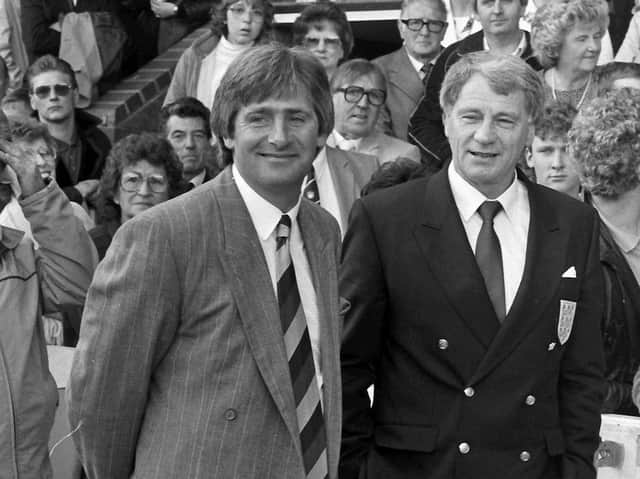 Aylesbury United's manager with then England Manager Sir Bobby Robson
The ground was sold for a whopping £800,000 to developers.
The Ducks have been without a home since they were evicted from Buckingham Road in 2006.
The Buckingham Road Stadium
The Chairman Graham Read said the club would 'never give up' in their efforts to return to their home on Buckingham Road speaking in April.
The club bid up to £650,000 but any more would have put the club's financial future into jeopardy, said chairman Graham Read.
Speaking to Ollie Bayliss on BBC Three Counties last night, Graham said:
"The developers were hoping to get 1m. We could only bid up to £650,000 otherwise we'd have put the club in trouble.
"The last 13 years we've controlled the finances and survived but any more than that could be one step too far.
"I know there's a load of emotional ties to Buckingham Road.
"It's the end of an Era, after 13 years of chasing our home. We've got to say goodbye."
Plans have been previously submitted to demolish the old ground and turn it into houses and a care home.
But 13 years later the stadium sits empty, unused and unloved in what is one of the biggest travesties in Aylesbury's sporting history.
The site was victim of a suspected arson in 2015 - and police at the time said they believe the fire was 'deliberate'.
Graham continued: "We can never say never. We'll still keep tabs on it but the developers are confident they will get planning permission.
"We've got to remember we've moved a long way over these years. We've now got over 30 teams - from the ducklings up to the first team, disabled teams, ladies team.
"I know Buckingham Road has all this sentiment and history to it but we need to move on.
"We're working closely with Aylesbury Town Council who I must say have given us more help than AVDC or Buckinghamshire CC put together.
"We're now looking at Fairford Leys - that's got to be our target.
The club will now be looking to invest the money that they were going to spend on the repurchase of Buckingham Road to develop the facilities at Fairford Leys.
Graham Said: "The money we would have put into Buckingham Road will now give us a huge start at Fairford Leys.
"I believe we can overcome the red tape at Fairford Leys with the golfclub in receivership, HS2, etc.
"We're looking to take over the golf club and changing rooms.
"We need to put a pitch in. We could develop that into quite a nice ground that accommodates the needs of all our teams.
"At the end of the day it's very sad, but we have to move on."