Aylesbury mum to swim Loch Ness in tribute to her mother's best friend
Keely is swimming 25 miles to fundraise for a charity close to her heart.
Thursday, 17th June 2021, 4:09 pm
In tribute to a lost friend, Aylesbury mum Keely Brian, has set herself her hardest challenge yet, to swim Loch Ness.
The hairdresser has set many challenges for herself over the years, each time she sets a different target and raises money for charity in the process.
This year, Cancer Research is the charity of choice, as the awful disease seems omnipresent in her life.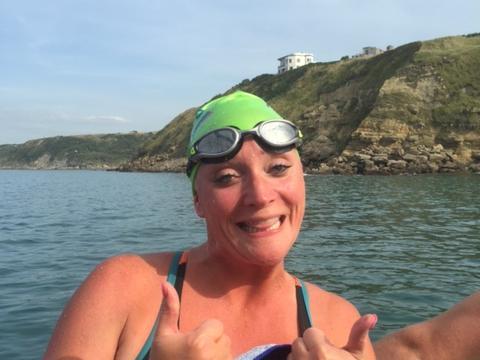 Keely Brian
She will be swimming in tribute to her mother's best friend, Julie Ballard, who died at the hands of a particularly rare type of cancer.
Keely explained to the Bucks Herald, "Julie went from being really well, to having a bit of pain in her stomach. To being diagnosed with a very rare type of cancer. Within three months she was dead, she said.
"I was just so shocked that it could happen that quickly. I saw firsthand just how difficult it was for her daughter, Lucy, to deal with the fact her mother was taken away from her so quickly. The frustration, the anger, the shock that you go through, you ask, why has this happened. My best friend's mother now has stage four cancer, so it feels really close to home. Cancer has become a part of my life.
"When Lucy asked me if I'd do the swim in tribute to Julie, I said 'yes, of course, I'd love to do that'. I've raised a lot of money for Macmillan in the past, but wanted to choose Cancer Research this time, I think they're fantastic."
Loch Ness will prove a formidable opponent for Keely, it's large, coming in at around 37 kilometers, it's deep and perhaps most importantly it is freezing.
Keely is swimming the loch on August 28, without a wetsuit, despite taking the dip in late summer the temperature isn't expected to rise above 13 degrees. In preparation for the icy waters Keely has been taking three ice baths a week.
Every ice bath she aims to stay in the tub that little bit longer. It started at 10 minutes in the cold, but she can brave the icy temperatures for much longer now. She keeps jotting down her times and progress, in attempts to better acclimatise herself with brutally cold water.
A team will be on hand to make sure Keely is ok. A paramedic and boat crew will follow her ensuring she stays in a stable condition whilst trying to battle through the loch for 15 hours.
Keely has been taking on endurance, open water swimming challenges for years. She was a club swimmer in her youth and has always been comfortable in the water.
Keely got the bug after attending a one-mile Open Water Swim Series race set up by British Gas. She added: "I loved the buzz around the event, seeing all the swimmers in their wetsuits, the music, the crowd, the allround atmosphere, that really made me want to start.
"Also, I felt like after having kids, I ended up in a bit of a rut, where I kind of felt like I wasn't doing anything. I've always loved testing myself, and this was such an exciting, different challenge."
Within three years of that first race, she successfully completed a swim across the channel it took 13-and-a-half hours to battle through the famous arm of the Atlantic ocean.
The Aylesbury mum takes on an arduous, time-consuming training scheme to complete this extreme endurance challenge. She takes to the water every day, barring one rest day. Twice a week she completes a long swim of four to five hours, 'short' swims typically last for an hour.
In an attempt to mix things up, the 44-year-old has been running, but detests the activity and can struggle more physically completing a mile jog, than she does during testing five-hour sessions in the pool.
You can sponsor Keely ahead of her swim on her fundraising page here. Keely hasn't set an overall target to reach, as she is of the belief than any small amount can make a difference to these 'fantastic' charities.