Aylesbury Lioness joins first public sector women' football tournament
Aylesbury Lioness Ellen White said the atmosphere was 'electric' at the first public sector women's football tournament held at St George's National Football Centre recently.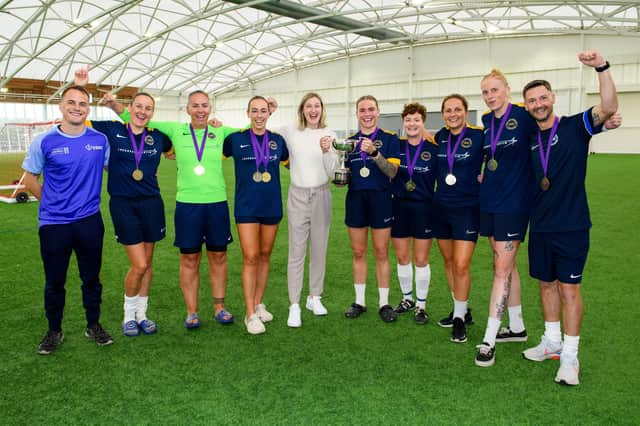 More than 150 civil servants and women from the armed services took part in the five-a-side competition for the inaugural Duchess of Gloucester Trophy, won by The Royal Navy.
Top goal scorer Ellen was on hand to provide the 18 teams with tactical tips and she joined the Duchess of Gloucester on stage for the prize giving ceremony.
Ellen said: "I'm hugely passionate about growing the women's game and events like this one, that allows women to bring together a team and just play football, are so important.
"It's been great seeing so many take to the pitch and the atmosphere has been electric all day.
"I can't wait to see how this competition grows in the years to come."
The tournament was organised by the Civil Service Sports Club (CSSC) and named in honour of their patron, the Duchess of Gloucester.
It was created to build on an incredible summer for women's football and help drive participation among its members.
Teams from the NHS, Department of Education, Land Registry, police and all branches of the armed services took part, showcasing the high level of talent across all corners of the public sector.
> Established in 1921 to support the civil service and public sector, the CSSC is an exclusive not-for-profit organisation that inspires its 130,000 members to explore new ways to be active and healthy.