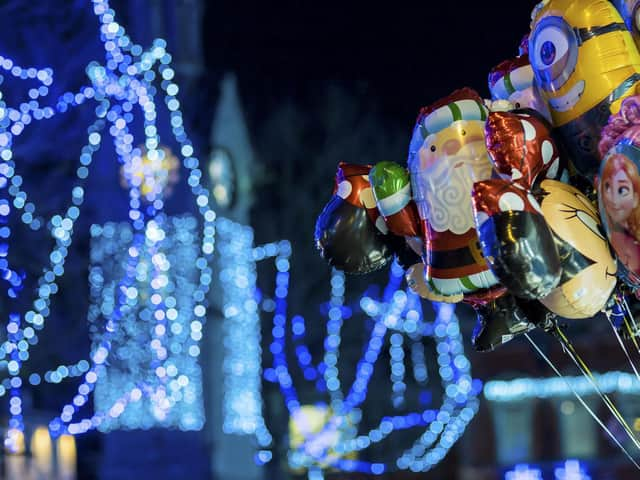 Heres everything you need to know about the AylesburyChristmas Lights Switch-On 2019:
Large crowds are expected for the 2019 event which will include stage entertainment taking place between 5.30pm and 8pm in Aylesbury's historic Market Square.
Here's everything you need to know about the Aylesbury Christmas Lights Switch-On 2019:
What are the timings on the night?
Stage entertainment will begin at 5.30pm in Market Square.
The Christmas lights will be switched on at 7pm followed by a 'spectacular firework display'.
What's the ticket situation?
Kingsbury and Market Square will be closed.
What entertainment is on offer?
There is live entertainment in Kingsbury Square from 5.30pm. There is an eclectic array of entertainment on show including the winner of Bucks Best School Choir, Thame-based acoustic duo DoubleTone and artist Lydia Singer.
House band The Eclectix are back by popular demand and they'll also be special guest appearances from Belle and Andy Collins from Aylesbury Waterside Theatre's Beauty and the Beast pantomime.
What food and drink is available?
There will also be a street food court and a funfair in Kingsbury Square which will run until 8.30pm
To help deal with any lost children at the event, parents are asked to collect an ID band for them to wear from the Meeting Point area located at the top of the High Street.
Parents will be asked to write their mobile number on the ID band - just in case they get separated from their children.
Thames Valley Police also recommend that parents have a photo of their children on their phone.
Also this year, Buckinghamshire Disability Service (BuDS) is supporting the event to help make the Christmas lights switch-on and fireworks more accessible and inclusive for disabled people.
BuDS will be staffing a small viewing area for disabled people and providing a quiet room for anyone who needs a break from all the excitement.