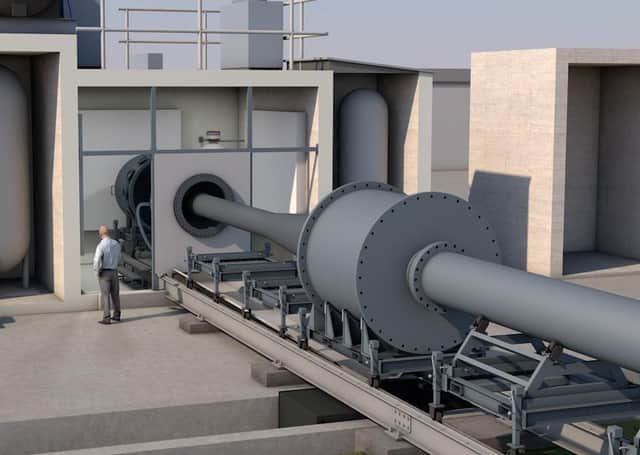 This image shows a section of the planned test facility.
The National Space Propulsion Test Facility will be based at the Aylesbury Vale Enterprise Zone at Westcott Venture Park.
It will allow companies and academics to fire up and test state-of-the-art space propulsion engines in a high-altitude vacuum - the equivalent of an altitude of 140,000ft.
The facility, which has received £4 million of Government funding, is expected to open later this year.
Rod Mordey, director at PATRIZIA, which owns the 650-acre Westcott Venture Park, said: "This is yet another leap forward for the development of Westcott Venture Park as a centre of excellence in the space propulsion and associated high-tech industries.
He added: "Over the next 10 years, Westcott will become the UK Centre for the next generation of propulsion systems and small satellite manufacture."
Richard Harrington, chief executive of Buckinghamshire Local Enterprise Partnership, said: "The national rocket test facility at Westcott is a key step towards delivering a world-leading hub for the space sector in the heart of Buckinghamshire."
The new centre will allow companies to test large engines in the UK instead of seeking out facilities overseas.
The UK space sector has grown by more than 60 per cent over the last decade.
Satellites support £300 billion of UK economic activity through the use of satellite services and this figure is expected to grow further as this new government support unlock commercial opportunities.
Westcott is recognised as a key part of the UK space sector growth strategy with a nucleus of well-established companies supporting rocket and satellite enabled research and development projects.