And what a year that was! Kris Needs' column celebrates first birthday of Vinyl on Wednesdays
It doesn't seem a year since Rick and Judy Pearce and I held the inaugural Vinyl On Wednesdays. Inspired by a Classic Album Sundays event for Blondie I'd spoken at, we presented David Bowie's Ziggy Stardust and, thankfully, the little room at Temple Street Wine Bar was packed.
Monday, 18th November 2019, 5:57 pm
Updated
Monday, 18th November 2019, 5:58 pm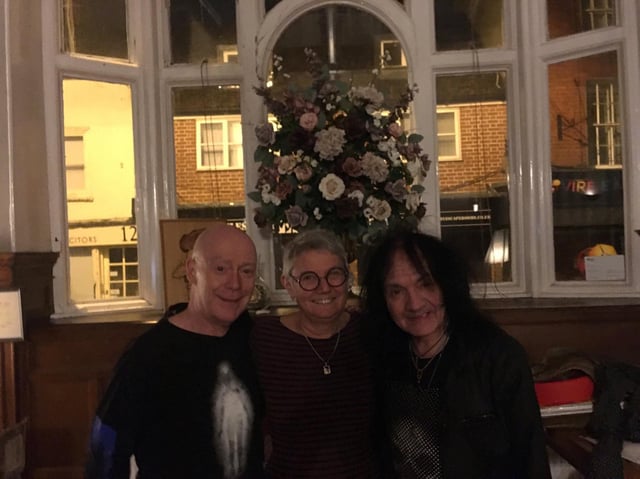 Rick, Judy and Kris, who started the Vinyl on Wednesdays evenings
The monthly gatherings held on the second Wednesday every month solidified around a lovely gang of regulars as we honoured the Beastie Boys (with their original producer Jay Burnett, now a familiar regular), the Rolling Stones' Beggars Banquet, then our first event in the large restaurant to welcome Alex Paterson speaking about The Orb's UF Orb.
March saw legendary producer Craig Leon recalling making landmark debut albums by the Ramones and Suicide, before April's re-enactment of Motorhead's No Sleep Till Hammersmith. This marked the last full album playback on high-end equipment supplied by local hi-fi emporium Deco Audio (who hadn't appreciated Craig impulsively whacking up the volume!).
In came Aylesbury Music, a few doors down on Temple Street, and change of format in May when we played host to Charlie Hart and Steve Simpson from Ronnie Lane's Slim Chance, reminiscing about their late comrade and captivating the larger room playing his songs.
Everyone loved it when the format started extending beyond focusing on single LPs when I recalled my times with Mott The Hoople, slapping on tracks (even at the wrong speed with dust on the needle!), making the atmosphere more like a loose front room record session with a lot of laughter.
This continued at my 65th birthday bash in a packed main restaurant, remembering being close to The Clash, while US singer Wonder sang me 'Happy Birthday'. August's Jimi Hendrix night was another special one, brilliantly boosted by Only Ones guitarist John Perry, who read from his Electric Ladyland book, while we both remembered seeing Hendrix live.
A sad note came with news beloved regular Rocking Ray Smith had been admitted to hospital that day.
Sadly, he would never return.
In September, I recalled mad times on board George Clinton's Funkadelic mothership.
October saw the launch of my book Just A Shot Away: 1969 Revisited in tribute to my late partner Helen, who inspired it, and local hero Lol Coxhill homaged by his friend and collaborator Mark Browne (attended by daughter Maddie Coxhill).
Last week we marked our first anniversary in the big room with a rollicking hoedown around Primal Scream, in which I recalled my crazy 90s in the front lines with this unique band (everyone loving Jude's brownies!).
On December 11th we'll be holding our Christmas Party, which would've been Blondie until we concluded the little room is too small and we can't have the big one that night.
Instead, we'll be marking 50 years since the Rolling Stones' Let it Bleed with selections from my archive of rarities and out-takes (plus some seasonal chestnuts!). All told, quite a year!
Thanks to all who've made the effort to come along and make this such a special monthly event for Aylesbury; we couldn't wish for a warmer bunch of enthusiastic regulars.
There are already major shenanigans planned for 2020! (And another fun event on December 7 when Aylesbury Record Fair returns to the Hop Pole after the success of last month's bash)