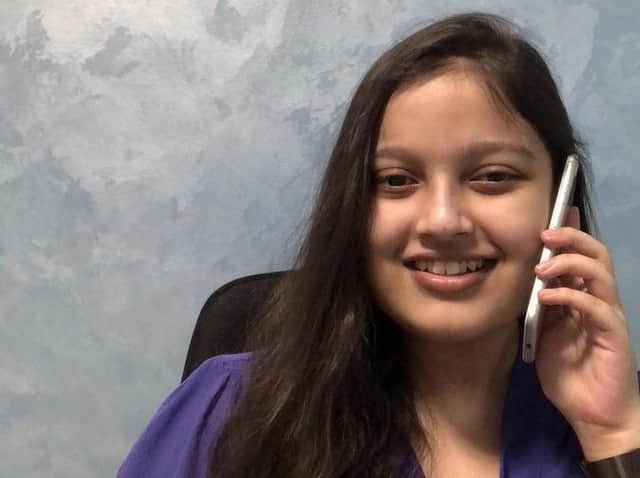 Rushika Das
The calls allow the students to make sure the residents are feeling okay, and to check that they are receiving food parcels and any medication that they may need.
Coordinated by Buckinghamshire Council's Aylesbury Support Hub, a total of 21 students are participating in the calls – with each student responsible for contacting three or more residents. T
The calls are friendly, relaxed, weekly calls – unless the resident requests them to be less. If there are any concerns, the student will email or call the Aylesbury Support Hub so a team member can address their concerns.
Dean Jones, Partnerships and Outreach Manager at the University of Buckingham, said:
"We are all really proud to play a part in supporting the community at this time. Dr Joanne Selway has done a remarkable job of coordinating our student volunteers.
"We are working collaboratively across departments and with our regional authority partners to ensure that the university continues to support the wider community. We very much see ourselves as a civic university with a responsibility to support those in our community who are most in need.
"It is heartening to see everyone from staff to students contributing in different ways.
"For our medical students, the experience of applying their learning during a pandemic is invaluable. Whilst these times are incredibly challenging for everyone concerned, these learning experiences will prove incredibly useful to all our future medical professionals."
To date, more than 72 residents have been contacted by the students. Requests by residents include:
-Delivery of food parcels
-Replacement of a broken nebuliser
-Collection of prescriptions
Volunteer, Rushika Das, explains:
"When the University of Buckingham reached out to its medical students to volunteer during these challenging times, I was more than glad to step forward and take this opportunity.
"The people I have contacted have said that they feel emotionally supported and it makes them feel good to have someone to talk to about their day-to-day things when the current circumstances are so unpredictable. This has given them confidence that someone is looking out for them since these situations have made them more vulnerable."
Dean and Rushika talk more about their involvement with the volunteer scheme in a Vlog led by Martin Tett, Leader of Buckinghamshire Council. The Vlog can be viewed here: www.buckinghamshire.gov.uk/coronavirus/video-updatesGareth Williams, Cabinet Member Communities & Public Health for Buckinghamshire Council, commented:
"I'm very impressed by these medical students volunteering to make these helpful calls to residents who are currently shielding from coronavirus. I'm sure that each call is welcomed by the residents, many who have been isolating for several weeks now. This is another great example of why I'm #ProudofBucks."
The 'check-in' calls from these students build on Buckinghamshire Council's 'staying in touch' service by widening support to people who are not already receiving Adult Social Care services from the council. Since 6 April, 'staying in touch' staff and volunteers have made over 10,000 calls to elderly and vulnerable residents.