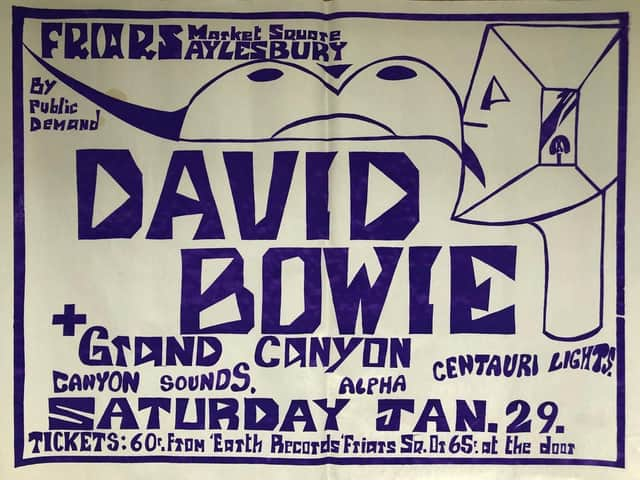 This Friars poster will be part of the auction
The Friars Aylesbury Archive is a not-for-profit project which will create a complete archive of all Friars related memorabilia including Friars news sheets, posters, tickets, video, recordings, press cuttings etc.
Bosses are then intending to completely digitise everything so that there is a permanent record of everything that has happened since Friars first started in June 1969.
But to do that cash is needed, and some extra and duplicate items will be included in a sale at the Omega Memorabilia Auction tomorrow.
Friars founder David Stopps, said: "Any funds created will be used to add additional security to the archive, digitise the archive and to create a fund to buy any missing items of which there are quite a few, as you will see below. We were recently thrilled to be able to purchase a Friars U2 poster from June 1981 which we've been after for many years."
The following Friars items are in the auction:
The Clash 1981 Combat Rock Tour Lot 214
David Bowie 1972 30"X40" World Premiere of Ziggy Stardust Lot 367
FRIARS TWO-SIDED HANDOUTS
The Ramones/Osibisa 1977 + Ramones/Iggy Pop 1980 (Both together) Lot 216
The Clash/Ramones 1980 Lot 214
Genesis (Duke Tour)/Dennis Brown 1980 Lot 333
U2 + Altered Images 1981 Lot 215
There seems to be a lot of excitement about the Bowie poster, which Omega have featured on their main page. The auction will be live streamed.
As explained we are very keen to acquire the items we are missing, for the archive. Some people have already kindly donated items to the archive for which we are very grateful, but we are quite prepared to pay for them if necessary.
These are the missing handouts and posters as of June 2020:
Mott The Hoople + Paul Brett's Sage
Mott The Hoople + Darien Spirit
Cockney Rebel + BeBop Deluxe
Cockney Rebel + AJ Webber
Simple Minds + Hey! Elastica
Marillion + Nigel Planer as Neil
Thomas Dolby + Dekka Danse
Ian Dury & The Music Students + MG Giant + Adrenalin
Fiction Factory + House Of Hearts
Monday 8th September 1969
Principal Edwards Magic Theatre
Monday 10th/17th November 1969
Caravan/Graham Bond Initiation
Monday 5th/12th January 1970
East Of Eden/Writing On The Wall
Monday 23rd February 1970
Writing On The Wall + Black Apple
The Crazy World Of Arthur Brown + SME
Matthews Southern Comfort
Roy Harper + Mick Softley
Mott The Hoople + Mick Softley
Mick Softley + Roger Ruskin Spear + Wishbone Ash + Les Payne
Southern Comfort + Help Yourself + Ade Roach
Lindisfarne + Gilbert Hampshire's Armpit Review
Saturday 21st August 1971
Saturday 9th October 1971
Edgar Broughton Band + Mr Moses School Band
Saturday 12th August 1972
Saturday 9th September 1972
Saturday 21st October 1972
Jonathan Kelly + Capability Brown
Saturday 6th January 1973
Saturday 10th February 1973
Mott The Hoople + Darien Spirit
Barclay James Harvest + Solution
Jo'Burg Hawk + Magus + Otway & Barrett (Raban's Rock '73)
Jack The Lad + Peter Hammill + Zox & The Radar Boys
Saturday 18th August 1973
Saturday 1st September 1973
String Driven Thing + Ducks Deluxe
Saturday 15th September 1973
Commander Cody and His Lost Planet Airmen + Kilburn and The High Roads
Saturday 29th September 1973
Saturday 3rd November 1973
Darryl Way's Wolf + Le Orme
Saturday 17th November 1973
Stackridge + Aj Webber + Warrior
Saturday 1st December 1973
Saturday 22nd December 1973
Ducks Deluxe + Starry Eyed And Laughing
Saturday 29th December 1973
String Driven Thing + Kilburn and The High Roads
Saturday 2nd February 1974
Greenslade + Chilli Willi & The Red Hot Peppers
Saturday 16th February 1974
Manfred Mann's Earth Band + Wally
Capability Brown + Aj Webber + Druid + Palace + Avalon (Raban's Rock '74)
Saturday 17th August 1974
Saturday 21st December 1974
Jess Roden Band + String Driven Thing
Wednesday 19th March 1975
Hunter Ronson Band + Warren Harry and The Yum Yum Band
Dr Feelgood + Warren Harry
Saturday 8th November 1975
Saturday 20th November 1976
The Flamin Groovies + The Vibrators
Tom Petty and The Heartbreakers + The Boomtown Rats
Saturday 7th January 1978
Motorhead + The Radiators From Space
The Clash + The Coventry Automatics
Saturday 19th January 1980
John Peel Road Show + Dexy's Midnight Runners + Black Slate + D Mixture
Big Country + The Lotus Eaters + Red Beat
Saturday 29th October 1983
The Truth + Screen 3 + Doris and The Dots
Saturday 5th November 1983
The Alarm + Basta Roc + Perfect Crime + The Climb
Saturday 19th November 1983
Public Image Limited + First Priority
Saturday 3rd December 1983
Friday 23rd December 1983
The Farmers Boys and The Higsons + Popular Voice
Thursday 29th December 1983
Marillion + Nigel Planer as Neil
Friday 17th February 1984
Thomas Dolby + Dekka Danse
Grandmaster Flash + Mike Bruce + Seelabeelia
X-Mal Deutschland + The March Violets + Red Lorry Yellow Lorry
Sisters Of Mercy + The Skeletal Family
Saturday 10th November 1984
The Alarm + Blue In Heaven
Saturday 24th November 1984
The Cult + Balaam and the Angel + Play Dead
If you have any of the above items and would like to donate them or allow Friars chiefs to purchase them you can contact [email protected]