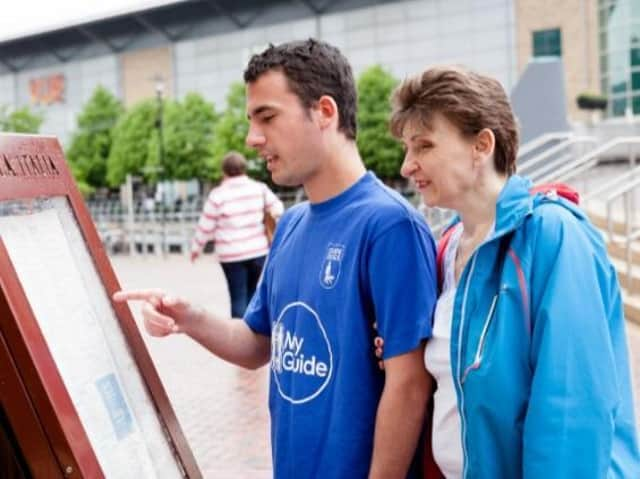 Could you help change someones life for the better?
The charity is focusing on recruiting volunteers in both Aylesbury and Milton Keynes, to help blind people who cannot get out at all on their own.
If you volunteer, you could really help change somebodies life.
In Buckinghamshire, Guide Dogs is starting to get more referrals from people looking for a sighted guides but doesn't have enough volunteers to meet demand.
Some people have been waiting several months to get out and about.
Suzanne Carr, My Guide Volunteer Manager, says "My Guide is a fantastic service that enables volunteers to help people who are partially sighted or blind to take part
in activities that they may not feel able to do on their own. Many people living with sight loss experience isolation or loneliness, and I have seen first-hand how having a
My Guide volunteer can help turn their life around."
There are around 18,000 people living with sight loss in the county.
My Guide is a volunteer-led service that Guide Dogs offers, where a trained, sighted guide is partnered with someone who is blind or partially sighted. My Guides accompany the person to help with things like running errands, practicing everyday routes, using public transport, or going to the gym. Sometimes, they'll just spend time together and take part in activities they both enjoy.
The volunteer usually spends about two hours per week as a My Guide and will meet the same person every week to ensure they both have things in common.
Mike, who has sight loss and currently uses the My Guide service, "Meeting up with Dave every week makes a huge difference to my life. It's another reason to get out and about. I've been very lucky with Dave as my volunteer and now regard [him] as a good friend. Thank you to My Guide and everything you do for people like me."
Guide Dogs provides full training for all volunteers. To apply, go to the Guide Dogs website https://www.guidedogs.org.uk/volunteering or call the Reading Team on 0345 143 0224.