'Stabbed more than 40 times, and head smashed in with a hammer' - police launch fresh bid to find Aylesbury bookie killer
Thames Valley Police are offering a £20,000 reward that could lead to the conviction of the murderer of John Sheppherd, who was stabbed to death 'more than 40 times' in a violent, frenzied attack in 1994.
Tuesday, 26th November 2019, 4:31 pm
Updated
Tuesday, 26th November 2019, 4:32 pm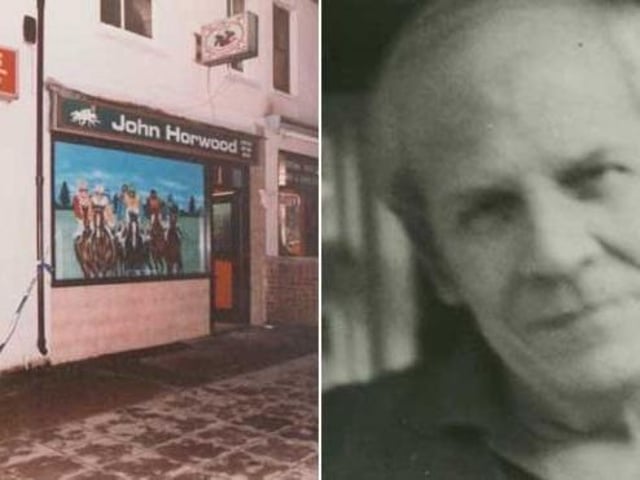 John Shepperd and the John Horwood Bookies on Cambridge Street
John Sheppard, 66, of Steppingstone Place in Leighton Buzzard was stabbed to death as he worked at John Horwood bookmakers on Cambridge Street in Aylesbury on the evening of Saturday December 3, 1994.
He had also been hit 'multiple times' over the head with a hammer, in what Thames Valley Police detective Peter Beirne described as a 'horrific attack'.
At around 5pm closing time, other staff had left for the day and branch manager Mr Sheppard was alone in the bookmakers.
The shop was robbed shortly after 5.15pm and Mr Sheppard was struck on the head with a blunt instrument before being viciously stabbed more than 40 times with a knife.
About £1000 was stolen from the shop, in what appears to have been a robbery gone wrong.
The father-of-one was due to collect a friend on his way home to Steppingstone Place in Leighton, where he lived with his wife Mary, but when he failed to arrive the alarm was raised.
He was well known in the local area and had been a bookie for over 20 years.
Despite a high-profile appeal at the time, John's killer has never been found.
Now 25 years on, police have reopened the cold case.
Detective Peter Bierne said: "John was a bookmaker and a manager of John Horwood bookmakers in Aylesbury.
"He'd been manager of the shop for 27 years, which was part of a wider chain across Buckinghamshire.
"On December 3, as per usual procedure - shops would ring in with takings for the day, up until about 5:15 when the other shops in the chain reported that phones were ringing but going going unanswered.
"That's how we have placed the approximate time of John's murder."
John was a well known figure locally.
He lived in Leighton Buzzard where he was chairman of the local darts league - but he had worked in Aylesbury for over 20 years as a bookie.
He had been married for 27 years and had a daughter.
The Police are now looking for any information from the general public that could lead to the arrest of the murderer.
They now have DNA evidence of the killer, but there is no match against the national DNA database.
So they are appealing for people with suspicions or queries relating to an individual to come forward, as it is now very easy for TVP to eliminate people from the search.
All it will take is a simple mouth swap to identify a match with the DNA evidence they now have.
Even if the person is dead, the police can request a mouth swab from a relative and come up with a positive match.
Thames Valley Police and Crimestoppers are offering a combined £20,000 reward to for any information that results in a successful prosecution.
If you have any information you think would help with the identification of John's murderer please call 101 or Crimestoppers on 0800555111