Report states Thames Valley Police must improve its child protection services
The report found missing children investigations were ineffective alongside other concerns
Watch more of our videos on Shots! 
and live on Freeview channel 276
Visit Shots! now
An independent report states Thames Valley Police must improve its child support services.
A report released by His Majesty's Inspectorate of Constabulary and Fire & Rescue Services, based on inspections carried out in May, found that the police force was not effectively protecting children.
HMICFRS highlighted issues with investigations carried out by the police to locate missing children. The report was also critical of the forces approach to handling child neglect cases. It also states: "There is an unacceptable number of overdue visits to registered sex offenders."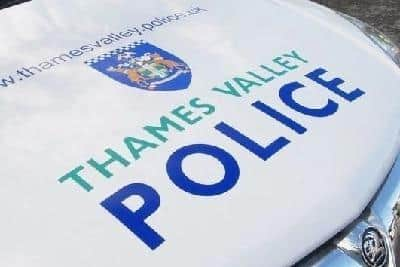 HMICFRS however, did credit the work of specialist child protection officers for carrying out high-quality. In its report HMICFRS says: "Domestic abuse is triaged promptly in multi-agency safeguarding hubs, which supports better joint working to safeguard children.
"Children are only held in custody when necessary; and decisions to take a child to a place of safety are well-considered and made in the best interests of the child."
Thames Valley Police states changes have been made in the six months since the force was inspected. And significant steps have been made to improve its services.
His Majesty's Inspector of Constabulary Roy Wilsher said: "During our inspection, we found that Thames Valley Police has a committed and dedicated workforce, often working in difficult and demanding circumstances.
"While we found some areas of effective practice, we also saw inconsistent practices and decision-making. In too many cases we examined, children weren't being seen, their voices weren't heard, and they weren't being appropriately protected by the force.
"Thames Valley Police needs to ensure that its commitment to improving the service leads to better results, and it provides a consistently good service for all children.
"We have made a range of recommendations which, if acted on, will help improve outcomes for children. We will continue to work closely with the force to monitor its progress."
Conclusions reached by inspectors are based on 70 cases in which the police had identified children at risk.
Inspectors found the force's child protection practice as good in 19 cases, requiring improvement in 16 cases, and inadequate in 35 cases.
HMICFRS criticised the governance structures used by the force, finding that there are a number of different meetings within the force, but little coordination between them.
One case study published by the HMICFRS shows mistakes made in the force's attempts to protect a vulnerable 13-year-old girl.
She was reported missing by her carers.
HMICFRS says she had been subject to sexual encounters to obtain drugs and was a rape victim.
However, officers graded her risk of harm as medium. The report adds that it was over 15 hours before the child's bedroom was searched by police officers.
An inspector reviewed the incident but failed to recognise the risk factors, the report added.
A phone number for the child was passed onto the police, but no one tried it. Seven hours later officers sent a message to this number, the girl was only found when she asked her carers to collect her a day later, HMICFRS states.