Police confirm unique incident where burglars returned stolen mother's ashes near Milton Keynes and Buckingham
"I've never known an offender break back into a property to return something"
Watch more of our videos on Shots! 
and live on Freeview channel 276
Visit Shots! now
Police have revealed the unique circumstances in which a stolen urn containing a mother's ashes were returned to a property between Buckingham and Milton Keynes.
A specially crafted urn containing the ashes of a much-loved mother were found at a property in Wicken on Monday morning (6 November).
It was designed by Hannah Aquarone as a memento her family could remember her by, before she died of pancreatic cancer six years ago.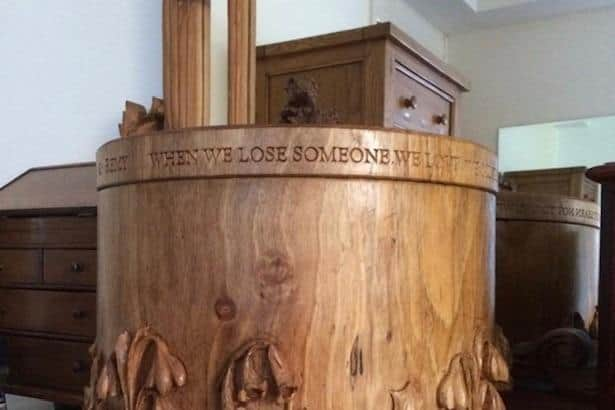 The urn was among a series of items taken from an outbuilding owned by Hannah's family on Saturday October 28.
Following the shock robbery, Hannah's daughter, Sophie Edmondson, posted a heartfelt message on social media hoping to retrieve the ashes. This was shared thousands of times on the social media website and the story was picked up by national outlets.
Now, the police believe the items were carefully returned by the culprits who stole them, in extremely rare circumstances.
Investigating officer PC Will Dyer, of Daventry Response, said: "I'm so happy that those responsible chose to do the right thing and safely return this incredibly special urn to the family involved.
"I've been doing this job for nearly 10 years and I've never known an offender break back into a property to return something, so this is very much a case of every cloud having a silver lining and it's why we do what we do.
"However there are still items missing that also have huge sentimental importance to the victims, so we're continuing to appeal for anyone with information that could be useful to our investigation to get in touch.
"To the people who returned the urn, we'd especially like to hear from you and if you come to our Criminal Justice Centre, we will have a reward waiting for you."
Between 1am and 3am items were taken from an outbuilding in Wicken Park Road, by two offenders, the police have not been able to identify.
Among the other items taken that have not been returned to the family are: jewellery, building materials and tools.
Northamptonshire Police is continuing to appeal for information about the burglary, which is believed to have been committed by two people who arrived in the area in a long-wheel-based white van, believed to be either a Ford Transit or a Mercedes Sprinter.
The police force is asking for anyone with information to call the force on 101 or contact Crimestoppers anonymously on 0800 555111.
Residents are asked to quote incident number 23000673176 when getting in touch to ensure your information reaches the right person as quickly as possible.
Upon announcing the return of the ashes on Monday, Sophie said: "I cannot quite believe it but she was returned back to us this weekend. Words can't describe how I'm feeling right now.
"The urn is sodden wet, stinks of bleach and needs a decent clean, but it's full and back where it should be.
"I'm so incredibly grateful to everyone for all the love, support, kindness and shares."