Aylesbury De Lick boxing academy want to help kids avoid life of violent crime
De Lick Academy will be offering free boxing classes for kids under their violent crime prevention programme, which will begin in mid-December.
Friday, 15th November 2019, 11:53 am
Updated
Friday, 15th November 2019, 11:53 am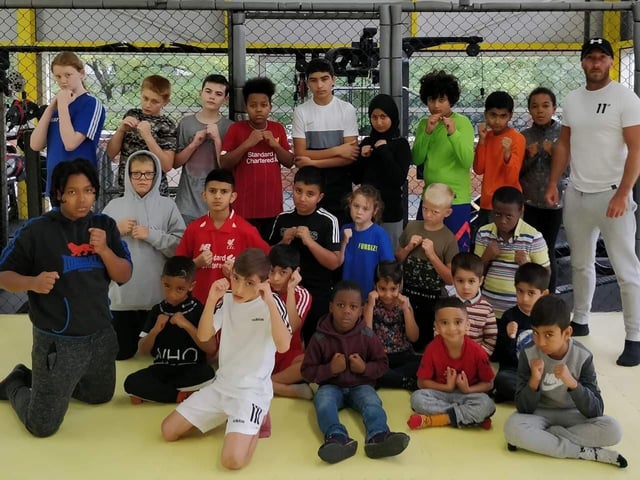 Ollie Bessell and Nathan Graham, who co-own the boxing academy, want to offer kids a chance to get on the 'right track' through the core disciplines of boxing.
Ollie Bessell and Nathan Graham, who co-own the boxing academy, want to offer kids a chance to get on the 'right track' through the core disciplines of boxing.
Nathan Graham has been coaching in Aylesbury for about seven years, and has built up a great reputation with his and Ollie's work at the De Lick Academy.
Ollie Bessell, who is a boxing coach at the academy spoke to the Bucks Herald about the project.
He said: "For us, this is all about using the core disciplines of boxing: fitness, discipline, building morale and confidence.
"Despite us being a boxing academy, the boxing is in some respects incidental to what we're striving to achieve here.
"We do a lot of community work with the kids, and this year they have raised £100s of pounds for Diabetes UK, British Heart Foundation and Cancer Research."
While catering to adults as well, the De Lick Academy's new initiative is aimed at kids between four and 15.
The De Lick Academy have a junior boxing team who compete nationally from the ages of 6 upwards. Classes for younger children are mainly technique based, to allow kids to build up their confidence when taking to the ring.
Ollie explained why the sport of boxing can have such a positive, 'turnaround' effect on young people's lives.
"I think why the sport can be so beneficial is that it's a full on commitment. Boxing involved huge levels of commitment, but the rewards you reap and the sense of achievement is unparalleled.
"You have to live and breathe the sport. The training, the eating and nutrition, you have to have rock solid mental strength. If you can walk into our gym and maintain this lifestyle, it breeds confidence and self respect.
"We've seen some incredible changes in the young men who attend the gym."
De Lick has been running in Aylesbury for two years now, and from humble beginnings on Chamberlain Road, they are now set to open their own gym on Rabans Lane Industrial Estate.
Ollie said parents come to De Lick for a variety of reasons, sometimes they are getting in trouble at school, sometimes they are being bullied, or even they are doing the bullying themselves.
They could be lacking confidence.
De Lick works with the pupils to help them build up their self respect and get their lives back on track.
Ollie shared the story of co-owner Nathan, whose dad presented him with an ultimatum after he was growing up without direction or focus.
"Nathan's dad issued him with an ultimatum. He said tomorrow I'm either taking you to sign up for the army, or we are going to train at the boxing gym. It made him change his habits and lifestyle and he did so well he went pro as a boxer.
"We've been in the same situation as these wayward kids, and this is why we want to help them.
"We have a social responsibility to show them that there's another way.
"I looked up the violent crime statistics in Aylesbury for the last month and the figure was astonishingly high for a town of our size.
"We need to get people away from living this kind of life, and although it may only play a small part in the grand scheme of things, we can have a huge impact on the kids we are trying to help out, to help them lead a positive lifestyle.
"These kids are from such a varied and diverse range of backgrounds, but they all have one thing in common - an absolute love for boxing."
Ollie added that kids and parents are welcome to come down and try out the sessions, to see what it's all about.
The sessions will start in December, once they have opened up their new gym on Rabans Lane Industrial Estate.
Until then they have sessions at GymFit4Less and Nuffield Health in Aylesbury.
Current classes are on a Monday, Wednesday and Friday evening and Saturday mornings for adults and children.
Professional boxer Nathan Graham and professional boxing coach Michael Graham will head up the new gym, which will be filled with a number of coaches teaching boxing and other fitness related classes.