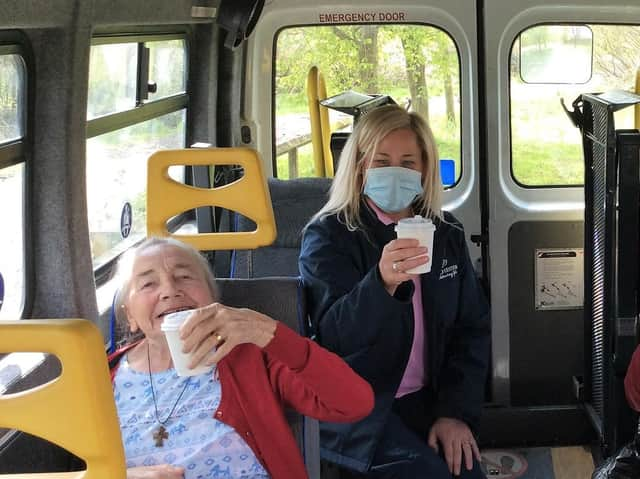 Residents were loving their first trip out since the pandemic began
Residents are now able to go on a short trip to outdoor spaces without having to isolate on their return.
Residents from Hempton Field enjoyed a long-awaited trip around Oxfordshire, one of the most exciting days of the past 12 months, with our first of many minibus 'outings' just for fun!
The route started with a meander through charming Chinnor, onto Thame, passing through the longest and widest high street market area in the country onto the picturesque
Shabbington village, in the Aylesbury Vale district of Buckinghamshire.
Residents took note of The Old Fisherman's pub as a place to visit when restrictions are fully lifted.
From Shabbington residents travelled to Worminghall, and crossed the M40 onto Horton-cum- Studley where we started a loop skirting Otmoor, through Oddington with its narrow roads
They also stopped for a picnic at the parish of Fencott and Murcott, south of Bicester.
"The views along the route were amazing, fields full of bright yellow Rapeseed and beautiful waterways with hanging willows.
"On our homebound journey we went via Beckley, Oxfordshire, past the magnificent masts, onto Forest Hill past Wheatley.
"Back over the M40 and through the villages of Milton Common, Tetsworth, Postcombe and Aston Rowant before arriving back at Hempton Field in Chinnor.
"With the Cotswolds and Chilton's on our door step, we really do live in such a beautiful location. It was simply the best day out."
Sharon Thursby, General Manager at Hempton Field commented: "It is absolutely wonderful to be able to take our residents out for trips again. We have all been waiting for
this day and we are so thankful it is finally here.
"Our residents have enjoyed all sorts of different entertainment during lockdown but nothing beats some fresh air and a change of scenery to blow away the cobwebs."
Elizabeth, a resident at Hempton Field, said: "Staff here have been brilliant throughout lockdown putting on all kind of different events to keep us entertained, we have been very
well looked after but it is lovely to be able to go out and about again. It really does feel like life is starting to get back to normal."
Hempton Field are welcoming new residents at the moment. If you would like to enquire please call 01844 351766 if you are looking for care or need any further help.
Hempton Field is run by Barchester Healthcare, one of the UK's largest care providers, which is committed to delivering high-quality care across its care homes and hospitals.
Hempton Field provides residential and nursing care, including respite care.