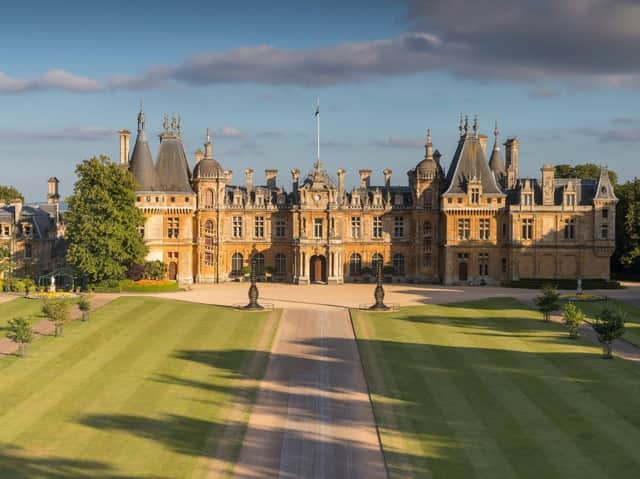 Waddesdon Manor opens on May 17
Staff and volunteers have been working hard behind the scenes to get properties ready to reopen safely with social distancing in place.
Hilary McGrady, Director General, National Trust says, "This is a big moment that we have all looked forward to for months as we welcome people back safely, to spend time together at their favourite properties.
"Hundreds of our parks, gardens and countryside locations have already reopened, but we know how much our members and supporters have been looking forward to returning to see our houses and collections again.
"Our places are nothing without our visitors there to enjoy them and our staff and volunteers have been working hard behind the scenes, cleaning chandeliers, polishing floors and dusting books, to get everything ready. It is a matter of huge relief, pride and gratitude that the places in our care can start to reopen following closure due to the pandemic. Not a single place will be lost to the public. The cultural treasures that are our shared inheritance are waiting – for everyone."
Andy Beer, Director of Operations, National Trust says, "Our houses have been closed and treasured collections haven't been seen for some time. But a lot of work has been going on behind the scenes. As a result of some of the changes we've had to make during the last year we have looked at new ways to present and share places and their individual stories, for example by introducing guided tours to bring them to life."
Hilary McGrady concludes, "We could not reopen so many of our places or carry out essential conservation without the patience and support of our members, visitors, donors and government schemes throughout this pandemic. And we are enormously grateful to our volunteers for the roles they have played, and will be playing again, as they return to our properties.
"All the support we have received has made the difference to the National Trust being able to continue its work and ensure that our places remain here for everyone to enjoy."
Entry arrangements for houses will vary so please check property web pages before visiting nationaltrust.org.ukHouses opening the week of 17 May
In all houses masks are mandatory (unless exempt) and Track & Trace details will be requested. Bookings at busy times such as weekends bank holidays and school holidays are recommended to guarantee admission, but booking is not usually necessary for mid-week visits.
Buckinghamshire National Trust Properties:
Hughenden Manor opens from Monday 17 May, every day 11am-5pm, last entry 4.15pm
Entrance to the house is allocated on a first-come, first-served basis and a valid visit ticket or membership card does not guarantee entry to the house. Numbers are limited for safety and only the ground-floor rooms will open initially. There's a one-way route around the five Disraeli rooms and Hillside exhibition rooms. (Grounds already open)
Guide to the rooms that are open: Tour of Hughenden Manor | National Trust
Waddesdon Manor opens on Wednesday 19 May, Wed-Sun 11am-4pm, last entry 3pm.
There'll be a gradual reopening of the rooms in the house, with the ground floor opening initially, then from 29 May, the first floor will reopen including a free exhibition: Collecting Stories: Private Worlds to Public Spaces. Nick Knight: Roses from my Garden opens in the Coach House gallery on 19 May, free with pre-booked Grounds admission. (Grounds already open)
Claydon opens on Friday 21 May, Fridays and Saturdays, 11am-3pm.
There's a new visitor route including an additional family room and new interpretation about Florence Nightingale and the Verney family. When the house is open, the South Terrace and lawns with views over the parkland will be available for picnics.
Canons Ashby, just over the Bucks border in Northamptonshire, opens on 17 May, every day 11.30am-4pm, last entry 3.30pm.
The main historic showrooms will be open, including the Drawing Room, new staircase carpet with a design inspired by one of Clara Dryden's watercolours, made on a 120-loom similar to that which made the original. Designated route around the house. (Grounds already open 10am-5pm)