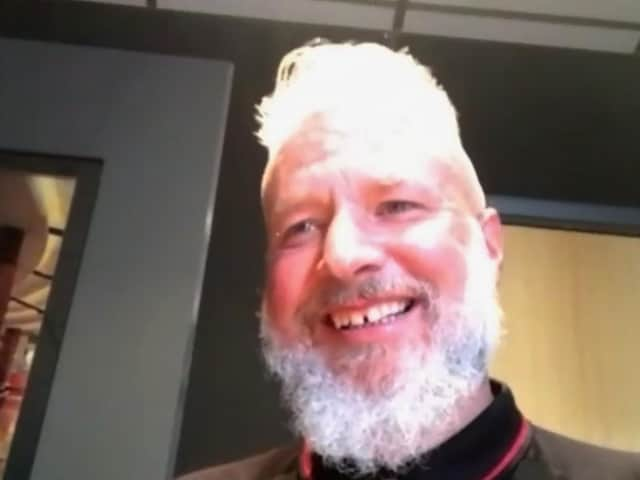 Winner Trevor Searle
HP21 8NJ was announced as a winner with the lottery on Friday 28th May landing Trevor Searle (45) a prize cheque for £30,000. He plans to buy his partner a new car and adventure around the UK in his campervan.
He found out how much he'd won on a video call with Lottery ambassador Matt Johnson and he was overjoyed when his cheque was revealed.
He said: "Whey-hey! C'mon! Yeah, I'll take that. Just amazing, I don't know what to say."
People's Postcode Lottery ambassador Matt Johnson
After finding out the winning prize sum Trevor had a new car in mind for his partner. He said: "I want to buy my partner a Nissan Juke Nismo. She wants one and I want the sporty one in silver."
Trevor enjoys travelling around the country in his Volkswagen Camper and has his eyes firmly set on a holiday across the length and breadth of the UK.
He joyfully said: "I want to go on a holiday in the UK. There is so many beautiful places to go and I just want to do them all before going abroad.
"I want to do the North Coast 500; I'm just going to get out there and just do it. The North Coast of Scotland all around the top because I live in the middle, I'm the furthest place from the sea, so I just want to go everywhere."
Trevor has worked throughout the pandemic for a company which works with hospital machines amongst other things. He received the news on his break at work and his first thought was to spread his amazing news. He said: "I'm going to go and tell everybody then I'm going to go back to work. I can't wait to get a beer."
People's Postcode Lottery ambassador Matt Johnson said: "I'm over the moon for our winner in Aylesbury I'm sure Trevor will enjoy buying his partner a new car and venturing around the UK in his campervan. Congratulations Trevor!"
Everyday throughout the May draws one postcode will be announced as a £30,000 prize winner. All the players in the postcode will win £30,000 for every ticket they hold.
People's Postcode Lottery costs £10 a month to play and there are guaranteed winners every day. People play with their chosen postcode and are automatically entered into all draws.
It's not just players who win with People's Postcode Lottery – good causes win too. With a minimum of 32% from each ticket going to charity, players have raised more than £700 million for over 8,500 charities and good causes.
This draw was promoted on behalf of Postcode Justice Trust which supports organisations including Helen Bamber Foundation, Women for Women International and Peace Direct with regular grant funding.