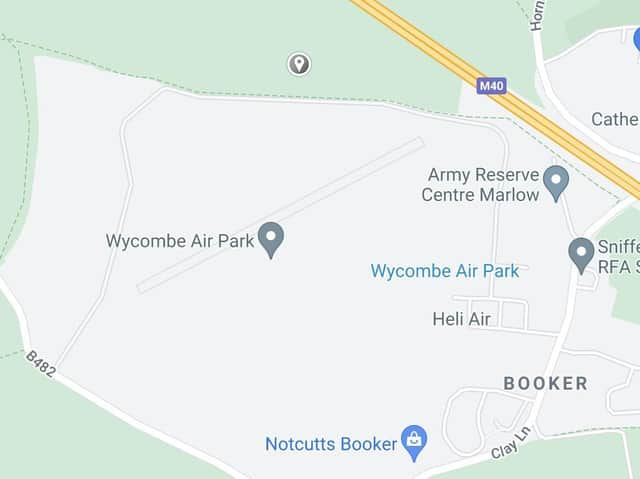 The site of the crash
Firefighters and paramedics were called to the crash site - where 100 litres of fuel had spilled from the aeroplane as it crashed into a field near Wycombe Airpark in Booker.
The crash occurred at about 10.30am this morning.
South Central Ambulance Service looked over the pilot, however they have said that he has not suffered any serious injuries.
A statement from Buckinghamshire Fire and Rescue Service said: "Two appliances and crews from High Wycombe one from Beaconsfield, Wycombe Air Park's fire crew and an officer attended.
"A two-seater, propeller-driven light aircraft came down in a field north of Wycombe Air Park.
"The pilot was left in the care of the ambulance service and is not believed to have been injured."
There are no clear indications of how the accident occurred.
A man walking his dog around the time of the crash said:
"A plane had a controlled crash this morning at Wycombe airfield.
I don't know too much as I happened to be walking the dogs in the area, 20-30 minutes after it happened.
"The plane ended up in the field adjacent to the airfield, next to the M40.
"There was no fire and the plane was the correct way up, so I'm hoping the occupants are safe."