The term 'vulnerable species' takes on a new meaning in new digital series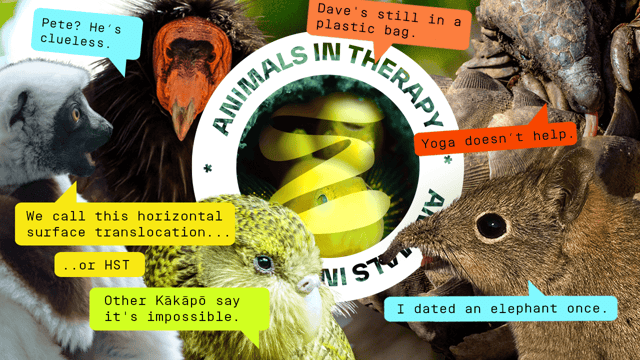 On the Edge, a UK-based media and conservation entity, is releasing an original series of ten comedic short films featuring a glimpse inside the worlds of some of the most vulnerable species - both environmentally and emotionally! 
The digital series, titled Animals in Therapy, is directed by Tim Hope and features real footage of endangered and at-risk species voiced-over by an all-star list of comedic talent such as Rhys Darby (Our Flag Means Death / Flight of the Conchords), Jessica Barden (The End of The F***ng World), Mae Martin (The Flight Attendant), Julian Barrett (The Mighty Boosh), Adrian Bliss (TikTok) and many more.
Each digital short shines the spotlight on vulnerable animals such as Ground Pangolins, California Condors, and Eastern Rock Elephant Shrews, all sharing their challenges and anxieties in a group therapy-like setting. From California Condors venting about their dating woes in light of dropping population rates, to tropical fish sharing their less-than-ideal living accommodations inside of a plastic milk carton - the cheeky tone is brought to life by the comedic talent and provides an entertaining spin on traditionally serious topics. 
The first episode was released on Thursday 8th September and a new short film will be released episodically every Thursday until 10th November.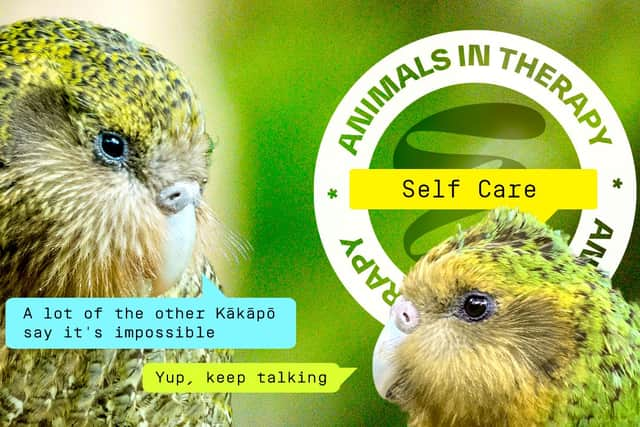 "Many of the species featured in Animals in Therapy are highly threatened and have historically received little or no conservation attention," said On the Edge's CEO Jonathan Bailie. 
Jonathan adds, "Presenting the world through their eyes helps highlight how out of balance our relationship is with other animals and hopefully results in greater empathy for the 10M + species with which we share the planet." 
Animals in Therapy's Director and Writer comments: "The recognizable voices of comedic geniuses like Rhys Darby as the New Zealand-born Kakapo or the legendary Julian Barratt as a Ground Pangolin, hit just the right tone we wanted to accomplish with this series."
To learn more, click here. 
Animals in Therapy episode schedule: 
Thursday 8th September -
"Self Care ft. Kakapo" 
Thursday 15th September -
"Imposter Syndrome ft. Elephant Shrew"
Thursday 22nd September
– "Forever Young ft. Axolotl" 
Thursday 29th September
-"Self Help ft. Sikafa" 
Voiced by Johnny Pemberton 
Thursday 6th October
– "Flat Sharing No-no's! ft. Porcupinefish" 
Voiced by Rhys Darby (Golden Goby), Tim Hope (Birdbeak Burrfish), Julian Barratt (Black Sea Goby), Jessica Barden (Birdbeak Burrfish, Red-spotted Blenny, Thornback Cowfish), and Adrian Bliss (Axolotl) 
Thursday 13th October
– "Dating Dilemmas ft. California Condor" 
Voiced by Jessica Barden & Juliette Stearn 
Thursday 20th October
– "Meditation Techniques ft. Swimming Crabs"
○
Voiced by Hannah Pilkes & Lisa Gilroy 
Thursday 27th October
– "Safe Space Invader ft. Javan Slow Loris" 
Voiced by Jamel Johnson & Johnny Pemberton 
Thursday 3rd of November
– "Stressed Out ft. Ground Pangolin" 
Thursday 10th of November
- "Group Therapy Sesh" 
Voiced by Johnny Pemberton (Bonobo), Mae Martin (Woolly Monkey, Sumatran Rhino), Jamal Johnson (Leaf Mantis), and Julian Barratt (Hairy Frog, Grey Crowned Crane)