The best time to book holiday homes for 2023 travel, according to Vrbo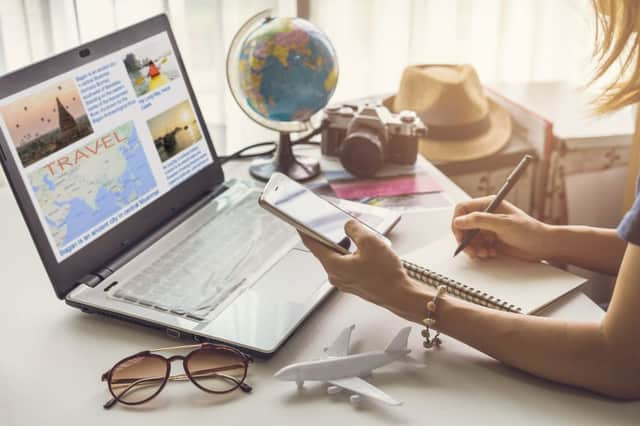 To snap up the best property, Vrbo advises travellers book for Easter break no later than 9February and summer holidays before 30 May
Vrbo® has unveiled eight key dates by which travellers should book their villas, cottages or beach houses in 2023 if they wish to travel during peak seasons. The busiest months for booking whole, private holiday homes are January and February, so the race is already on in locations highly in demand.
Vrbo's analysis pinpoints when there's a surge in demand for each of the busiest travel times of the year and when availability starts to dwindle. If travellers plan their trip ahead of that surge, they will have a better chance of choosing between the widest selection of rentals and the best value for their money, to find the perfect place to spend their holidays with family and friends.
In 2023, to have the widest selection of available properties for key travel periods, travellers are advised to book no later than the below dates:
Easter holiday: Book no later than 9 February
Early May Bank Holiday: Book no later than 17 March
Bank holiday for the coronation of King Charles III: Book no later than 23 March
End of May bank holiday: Book no later than 3 April
Summer holidays: Book no later than 30 May
Autumn half-term holidays: Book no later than 14 August
Christmas holidays: Book no later than 30 October
February 2024 half-term holidays: Book no later than 22 December 2023
"There's nothing worse than finding the fairytale castle or the dreamy villa with an infinity pool, only to then realise that it's already been booked for the dates you want to go away with your friends and family. That's why we advise that travellers add these book-by dates to their calendar: to make sure they get the best holiday home for their trips in 2023," said a spokesperson for Vrbo.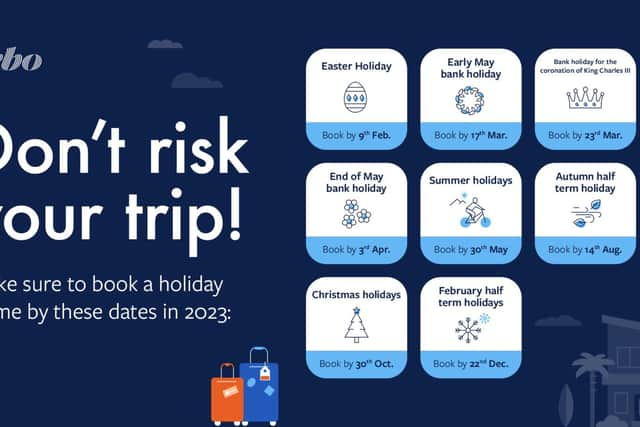 In addition to renting by the above dates, travellers can follow these five tips from Vrbo, the holiday homes experts, to find the best properties quickly and easily:
Check out alternative destinations: Vrbo holiday homes in some of the most popular places — such as Cornwall or Devon and international destinations in the Med like Spain or Portugal — tend to get booked up more quickly and earlier than other resorts. Fewer than 60% of holiday homes are still available for this summer in some of the hottest beach destinations in the Southwest of the UK, Faro (Portugal), Mallorca and Alicante (Spain).2
Those wanting to visit these destinations should rent a holiday home quickly. Failing that, or if you're dodging the crowds, look for off-the-beaten-track destinations. For instance, the coastal town of Weston-Super-Mare and historic gems, Winchester and Cheltenham, still have beautiful properties available and tend to provide travellers with a longer window to book. Further afield, the Canary Islands and Malaga in Spain, or the surfing hotspot Ericeira in Portugal, are great options too.2
Plan together with Trip Boards: the Vrbo platform offers a collaborative tool — Trip Boards — where travellers can save their favorite holiday homes in one place and invite everyone in their travel group to access it, add comments and select favourites.
Here is a selection of curated, ready-made Trip Boards to inspire travellers planning their 2023 holidays:  
Take advantage of flexible cancellation policies: families and groups of friends renting now for Easter and summer should look for properties that offer flexible cancellation policies in case plans change. The most flexible policy allows travellers to cancel their booking up to 14 days before check-in for a full refund.
Use search filters to narrow down results and find the best home for you, faster: filter your search by price, features and amenities — such as pools, hot tubs or gardens — and free cancellation policy.
Download and book on the Vrbo app: the Vrbo app provides travellers with an easy and handy way to look for the perfect property, consult cancellation policies, book and pay safely, stay connected with the owner and share Trip Boards with others in the group.