Four in 10 Brits wish to install an EV charger in their driveway
Forty percent of Brits wish to install an EV charger in their driveway despite only 4.5% of the UK population owning an electric car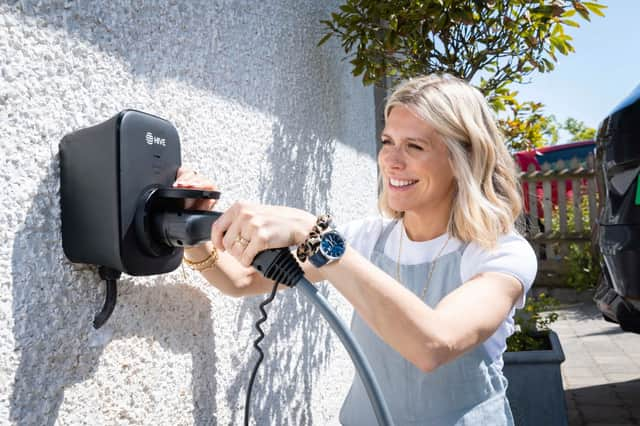 Brits are looking ahead with almost 4 in 10 (39%) wanting to install an EV charger in their home, despite only 4.5% of Brits currently owning an electric car.
20th June 2023, London: New research from Hive has revealed that Brits are increasingly valuing energy efficiency in their homes, choosing to invest in smart home technologies such as EV charging points and solar panels over more aesthetically pleasing changes.
Over half of respondents (55 percent) agree that making our homes sustainable is something that everyone should be thinking about and 47 percent have already made changes to their current home for the purpose of making it greener². 
It's clear that Brits are planning ahead and preparing for the ban on the sale of new petrol and diesel cars by 2030, with the research finding that four in ten (39 percent) would like to install an EV charger on their driveway. And there is great value in doing so. EV chargers are said to add up to £5,000³ to the value of a home with Brits prepared to pay an additional £11,730 for a home that comes complete with sustainable elements including an at-home charger.
Despite this, concerns that EV's aren't able to cover a long range without recharging (27 percent), that it takes too long to charge (25 percent) and that the price of electricity will soon overtake the price of petrol (21 percent), are putting people off from making the switch and installing a charger at home.
To celebrate the launch of its new EV Charger, Hive has teamed up with Formula E reporter and British television presenter Nicki Shields to bust common myths and demonstrate why having a smart charger is worth considering and can add real value.
Myth 1: It's more expensive to charge my car at home
With the cost-of-living crisis forcing most to tighten their belts more than ever, this incorrect assumption could be stopping people from installing an at home charger – which would save them money in the long run.
To travel 200 miles using a home charger would cost around £16 for those on a standard variable tariff, and just £5 if charged overnight on an exclusive British Gas PeakSave tariff. This compares to £30 to travel the same distance in an average petrol car. In a year, this equates to £500+ in savings for a typical driver when making the switch to EV from petrol.⁴
Myth 2: If too many people on my street have EVs, the electricity grid won't be able to handle the increase in demand
On average, EV owners typically charge their vehicles about three times a week during off-peak hours, and twice a fortnight during peak hours⁵. As most people charge at night during off peak times, there is no expected impact to the grid.
Myth 3: You can't connect your home charger to your EV tariff
Before I switched to an electric car, I didn't know I could link my home charger to my tariff, but you can! You can set your Hive app to sync to your tariff, and it will automatically charge at the cheapest times if you have a two-rate tariff.
Myth 4: EVs take a long time to charge
My car is parked on my driveway, so I always charge during the night anyway and have never been impacted by the charge time. On average, a 7kW charger will take 6-8 hours to fill the battery⁵, so my car is always fully charged in the morning. 
Myth 5: The process for having an EV charger installed is complex
Knowing if your home is eligible for a charger can feel complex, but in reality, you only need to have a driveway and, if you rent, landlord permission. I've recently had Hive's new charger installed and it was really easy. Hive guides customers through the EV charger process, from start to finish with installation from an expert British Gas-approved engineer and 24/7 support available on demand.
Introducing the new Hive EV Charger: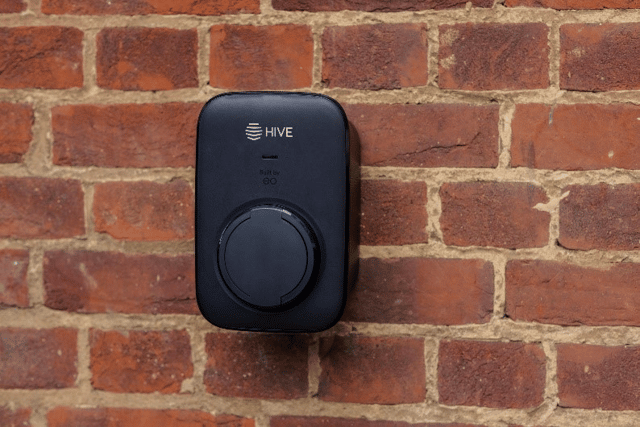 Hive has launched a new at home charger, the latest addition to its suite of smart home charging products. The new charger is ideal for electric car owners who want to better control and manage their EV charging needs.
The charger was developed in partnership with EO Charging, one of the UK's leading EV charger manufacturers, and at the size of an A5 notebook is one of the smallest electric car chargers on the market. This follows research by British Gas which reveals 39% are willing to install a home charger to power an EV and more people are increasingly considering their home charging options.
Customers will be able to charge their EVs for less with an exclusive British Gas PeakSave tariff which provides off-peak electricity between 12am and 5am at under 10p per kWh.
The charger is available to purchase with installation arranged by British Gas for £1,199 including VAT; or £119 per month via the recently-launched interest-free credit option. 
British Gas gives customers a 3-year warranty where it arranges installation; and a 2-year product guarantee on standalone charger sales.
As part of the British Gas PeakSave scheme which rewards customers for better energy use, British Gas and Hive are offering all Hive EV charging customers £100 credit back on their first energy bill for switching to an exclusive British Gas PeakSave tariff. New Hive EV charging customers will also receive £50 Hive vouchers to spend on any Hive technology.