British Gas shares energy saving tips that will help to save money on your heating
As the weather gets cooler, finding ways to save money on energy bills remains front of mind for Brits, with Google searches around energy bills increasing by almost 10% in the month since the latest tariff increase.* In addition, there was a 200% increase in number of searches around where people can get help to pay their electricity bill – according to new data from British Gas and Google.**
It's clear that cost-cutting and energy efficiency is a key concern for everyone, but with thousands of hacks being shared across social media what tips actually work?
To support households, British Gas is sharing straight answers to these difficult questions, rounding up the top energy saving tips that can shave money off your energy bill.
Whilst these simple tips won't bring bills all the way down, they can really help. According to the Energy Saving Trust, doing them every day can help to put hundreds of pounds a year back in your pocket.***
Advice from British Gas on saving energy this winter
Turn your thermostat down a little: One of the simplest ways to save energy is by turning your heating down a single degree. British Gas analysis of its smart thermostat data shows the average customer could save £115 a year on their energy bills by turning their heating down by one degree - which is around 10% of the average heating bill.****
Reduce your boiler flow temperature: Got a combi boiler? The default boiler flow temperature is normally set at 70 degrees. Reduce it to 55-60 degrees to save up to 6% on your energy use. Your boiler will work much more efficiently, and you won't even notice the difference. Sound complicated? It really isn't! Watch our 45 second tutorial to find out how.
Bleed your radiators: Getting more surface area heat out of your radiators and reducing cold spots can help lower the amount of energy they need, and you don't need to be a DIY whiz to do it – here's our engineer to show you how.
Consider Thermostatic Radiator Valves: If you use thermostatic radiator valves you can set different temperatures by each room to save money. They are very easy to install and have temperature settings – usually from 1-5 – which allows you to keep rooms you don't use very often at an energy-saving low temperature. For even more control of individual radiators, think about getting smart thermostatic radiator valves which let you set schedules around your lifestyle. The average household can save up to £75 per year with thermostatic radiator valves.*****
Fit foil panels: It's surprisingly easy to add reflector panels behind your radiators to bounce more of the infra-red heat rays back into your room – so less warmth gets lost through the wall. This trick works very well where you have radiators that sit on external walls and in properties with solid walls. The foil panels can be purchased online or at most DIY stores or you do this yourself by covering card with regular tin foil.
Move your furniture away from radiators: Big items of furniture can stop the heat from a radiator reaching the rest of the room. Got a bed or sofa right next to a radiator? Move it at least an inch or two away. This will improve the air circulation and you'll notice the room gets warm and cosy much faster and prevent wasting the energy you're paying for.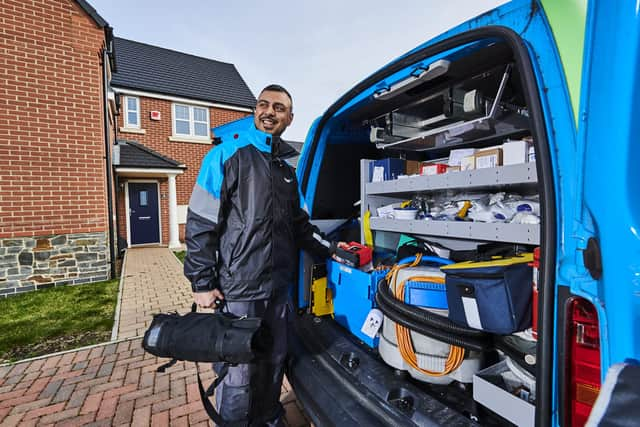 Saving energy around the home
Keep your oven closed: Opening the door when food's cooking lets heat out and uses more energy. It slows down cooking too – so use the window to check on food instead. You can also turn your over off in the last 10 minutes of cooking, as the temperature has reached the point it needs to cook your food. Even more, once finished – open up your oven door and let the heat warm up your home.
Defrost your fridge and freezer: Regularly defrosting your current fridge and freezer keeps ice under control and keeps everything working efficiently so you're keeping energy usage down and therefore lowering your bills.
Consider energy ratings when buying new appliances: If you're renewing any appliances in the kitchen, check the energy ratings of the models you are looking at. Choosing more energy-efficient options can be a way of making long-term savings. For example, choosing a D rated fridge freezer over an F rated one may cost more initially, but could save you around £570 in energy bills over its lifetime******
Unplug your devices: Your phone, tablet or TV still use energy on standby. Avoid paying for energy you don't use by unplugging them when you can. You can save around £55 a year just by remembering to turn off your devices and appliances when you're not using them.******* You could also think about getting a standby saver or smart plug which allows you to turn all your appliances off standby automatically.
Save money doing the laundry: Use the economy setting on you washing machine to save water and energy and avoid drying clothes on radiators as it will make your boiler work harder.
Anyone struggling with their energy bills can seek support from the British Gas Energy Trust – an independent Charitable Trust established and solely funded by British Gas to alleviate the detrimental impact of energy stress on its customers as well as people with other providers. The Trust helps people in - or at risk of - financial hardship make their energy payments and manage their finances through support, education and sound money management. To find out more, please visit: https://britishgasenergytrust.org.uk/