'Romantic Danube' river cruise sees friendships for life made on board the luxurious AmaViola
On our last morning aboard the AmaViola, I overheard a breakfasting couple say to the other two guests on their table: "You've made our holiday".
Watch more of our videos on Shots! 
and live on Freeview channel 276
Visit Shots! now
This wasn't the only time I heard this sentiment, and indeed one my wife and I made ourselves (and which was reciprocated) to the American couple we befriended during this amazing and luxurious cruise down the beautiful Danube.
River cruising is so different from that of its ocean counterpart. While spacious enough, the AmaViola - one of AmaWaterways' 26-strong fleet of five-star luxury ships - is inevitably more intimate, with the strong likelihood of seeing fellow travellers each and every day.
As such, friendships for life are often created - and what a backdrop for this to happen in.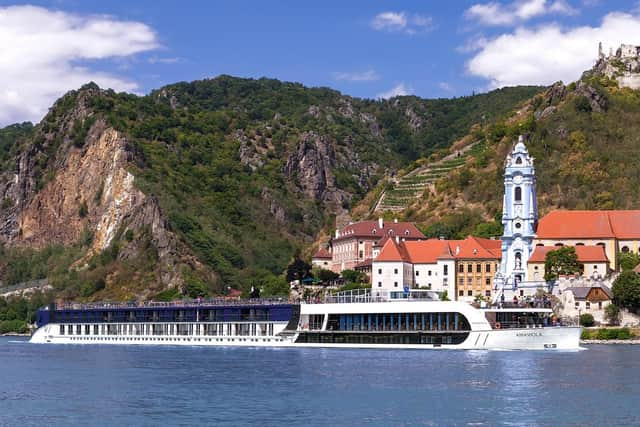 The AmaViola oozes opulence, with your eyes assailed by gleaming chrome, varnished and polished wood and bespoke fixtures, fittings and soft furnishings wherever your deck pumps take you.
Our double room was suitably spacious and comfortable, with large flatscreen Apple TV, complete with keyboard to access the internet, with UK and US news channels and movies/TV series on demand.
There is a good-sized walk-in shower in the bathroom, with sumptuous monogrammed AmaWaterways bathrobes awaiting your pleasure.Complimentary daily bottled water, fridge, hairdryer, ice bucket (with ice machine just down the corridor), umbrellas, illuminated wardrobes, and safe add to the room's inventory, as is a bespoke AmaWaterways-embossed shoehorn! - a small but important detail indicating this is serious indulgence.
And be prepared for a free gift here and there, as we were delighted to return to our stateroom one day to find a shawl for the ladies and an Ama baseball cap for the gents.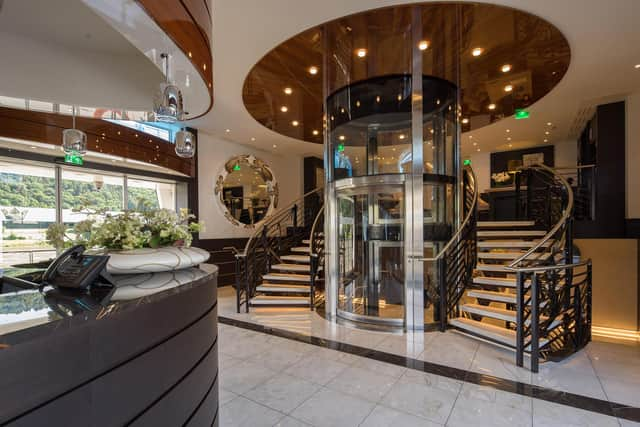 A bijou balcony affords room for two chairs, ample space to watch the amazing scenery through Germany, Austria, Slovakia and Hungary go gently by on our 'Romantic Danube' itinerary. I might add here that river cruising is a great option for those who might suffer from motion sickness as movement is, at least for me, virtually undetectable.
So what's included on an AmaWaterways river cruise? Firstly, your flights, transfers in official AmaWaterways coaches, accommodation, free wifi, and of course, fantastic food. Actually, rewind. I meant to say unbelievable food.
Breakfast, lunch and dinner (and evening snacks) are all part of the fare, including delicious and elegantly-presented regional dishes using locally-sourced produce. Dishes usually reflect the port or region you're in, but there are options always available, such as steak, chicken, salmon, and vegan/vegetarian meals.
Travellers are also invited to experience on one night The Chef's Table, a separate dining venue in which to sample an exquisite nine-course tasting banquet served up by the AmaViola's executive head chef. Simply amazing.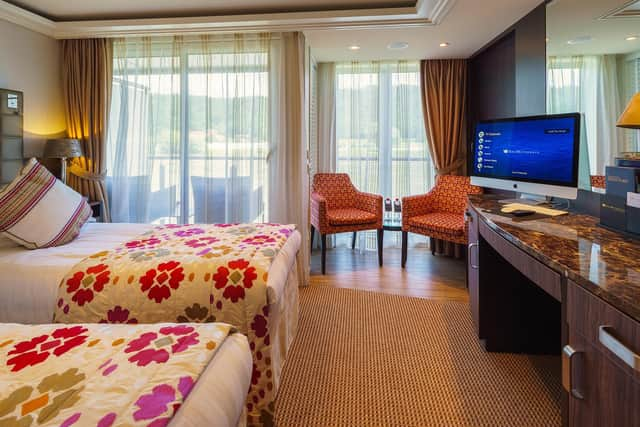 Sparkling wines at breakfast and local wines and beers are also included for lunch and dinner, with staff having a third eye to not let your glass reach the bottom!
While not all-inclusive, it certainly feels that way on board the AmaViola, with a gratis 'sip and sail' cocktail hour also thrown into the mix every day. Prices for drinks are extremely reasonable for a five-star venue too, with a bottle of pinot grigio costing me just £17.30.
A tea and coffee machine is located next to the lounge for unlimited lattes, hot chocolate, mochas and other drinks throughout your stay.What I found so special about AmaWaterways is that all the excursions are included in the price (sometimes a one-off trip incurs an extra cost) so that you can relax in the fact the vast majority of your onshore holiday is in the expert hands of local tour guides.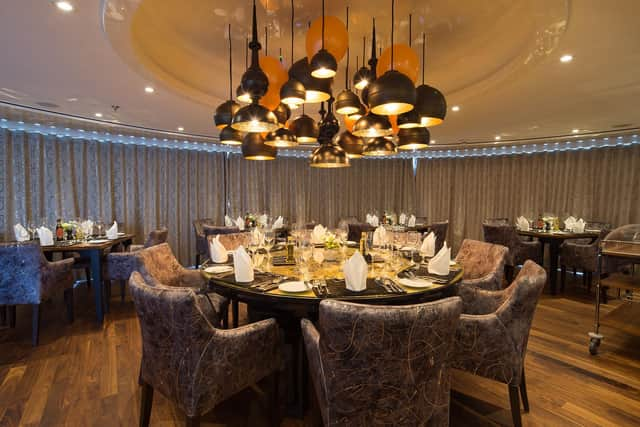 In the charming Bavarian town of Vilshofen we were welcomed by representatives from the city and treated to a performance of Bavarian folk music and dancing. This mini "Oktoberfest" celebration is held exclusively for AmaWaterways' guests and includes complimentary Bavarian beer and pretzels.
The "City of Three Rivers" Walking Tour saw us visit Passau, known as the Dreiflussestadt because the Danube, Inn and Ilz rivers all converge here. The town has many notable Baroque buildings and cobblestone streets, especially in the Old Town area, the city fortifications and St. Stephan's Cathedral, home to one of the largest church pipe organs in the world.
The full-day Salzburg excursion saw us begin with a drive from our port of Linz towards this charming and elegant city, stopping first in the scenic lakeside town of Mondsee, famous as the site of the wedding church from "The Sound of Music." Once in Salzburg, we enjoyed the walking tour in the historic centre, famous for its religious history, Baroque architecture and as the birthplace of Mozart. Highlights of the tour included the beautifully landscaped Mirabell Gardens (again, where Maria and the Von Trapp children were filmed singing and dancing), the Getreidegasse with its many decorative wrought iron guild signs, Residenz Square and the Old Market where, being a full day, a traditional Austrian sausage was our lunch port of call.
In the Abbey Durnstein we were greeted by hosts from nearby Weiser's Sweets Shop and treated to the region's finest apricot products. Jams, apricot liqueur, apricot brandy and sweets are all on the menu as was the the history and processing of this sweet fruit in the Wachau Valley, all followed by some free time to enjoy the charming village of Dürnstein.
That same evening we enjoyed a special wine tasting in Weissenkirchen, nestled in the Wachau Valley. Wines from the Weissenkirchen region tend to have a pronounced freshness, spiciness, finesse and complexity. Locally grown Rieslings and Grüner Veltliner are renowned around the world, and we got to...hic!...sample a few!
The Imperial Vienna Tour saw us visit the beautiful "City of Waltzes" offering a wealth of gems with our city tour showcasing its regal splendours, including the majestic Opera House, the former Imperial Palace of the Habsburgs, St. Stephen's Cathedral, and the city's historic centre, rich in architectural marvels, Baroque castles and lush gardens.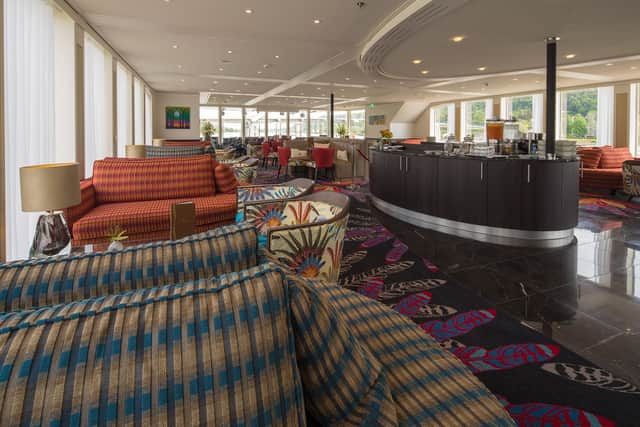 Tastes of Slovakia saw us savour some local Slovakian craft beer paired with typical Slovakian snacks including cheese and sausage at a local brew pub. During a brief walk through the heart of Bratislava, we heard about a new wave of independent microbreweries and pubs, often hidden down the back streets and putting the city on the beer-drinkers' map.
Cited as one of the most beautiful cities in Europe, our tour of Budapest on the Queen of The Danube tour included sightseeing on both the Buda and the Pest sides of the river. In 1873, the independent cities of Buda and Pest officially merged and became Budapest. The tour through this extensive UNESCO World Heritage Site offered amazing views from the historic Buda Castle, a visit to the fairytale-like Fisherman's Bastion and a panoramic tour of the Royal Palace and St. Stephen's Basilica.
Back on the ship there are plenty of ways to spend your free time. On the top deck a pool and sun loungers await if the weather allows, and a gym if you wish to burn off a few lunchtime calories. On that note, a Wellness host has free daily activities to help you achieve that, or just take you through a gentle stretch session.
Last but certainly not least, I must mention the staff. Nothing is too much trouble for these professional, courteous and always-smilling AmaWaterways employees, be it the ever-attentive restaurant and bar team, the amazing housekeeping staff, the crew, and the hotel and cruise managers, whose 'offices' were in plain sight on deck and who were approachable at all times of the day to try to make every request possible.
A simply wonderful and memorable trip, and one for those seasoned seacruisers among you to contemplate as a refreshing and rewarding change.
AmaWaterways offer a range of luxury river cruises in Europe, Asia, Africa and South America.
The seven-night Romantic Danube cruise from Vilshofen to Budapest costs from £2,262 per person for the 16 March 2024 departure onboard AmaViola.
Fares are based on two people sharing a category E stateroom and includes a 20% saving when you book by the end of December 2023 (The price was £2,348pp)
Return economy flights from London, group transfers, all meals, drinks with lunch and dinner, daily 'sip and sail' cocktails and a choice of excursions are included in the fare.
Prices are correct at time of issue and subject to availability. 
To reserve an AmaWaterways river cruise, contact your preferred Travel Agent, call 0800 520 2250 or visit AmaWaterways.co.uk      
We got our holiday off to a great start by arranging a hotel stay in preparation for our early flight, with Holiday Extras, who also arranged our parking stay.
Booking an airport hotel with parking with Holiday Extras means you can enjoy more holiday with less hassle.
One night's accommodation at the Hilton Double Tree at Manchester, is available for £126.65, based on arrival on 2nd November.
Meet and Greet T1 Parking at Manchester for seven days is available for £ 103.99 based on arrival on 2nd November.
An early start meant no time for hotel breakfast, so we enjoyed a pre-flight relaxation in the Escape Lounge.
Manchester Airport's Escape Lounge is available in all three terminals and offers passengers to chance to put their feet up, catch up on last minute business, or simply enjoy some peace and quiet as they enjoy the complimentary food and drink on offer.
The lounge caters to passengers of all ages and offers fast unlimited WiFi, flight information boards, bar service for complimentary alcoholic and soft drinks, along with buffet service for seasonal meals and snacks.
An enhanced and rigorous cleaning regime remains in place to ensure the Escape Lounge offers a Covid-safe environment.
Prices start from £31.99 when booked in advance. For more information or to book visit: