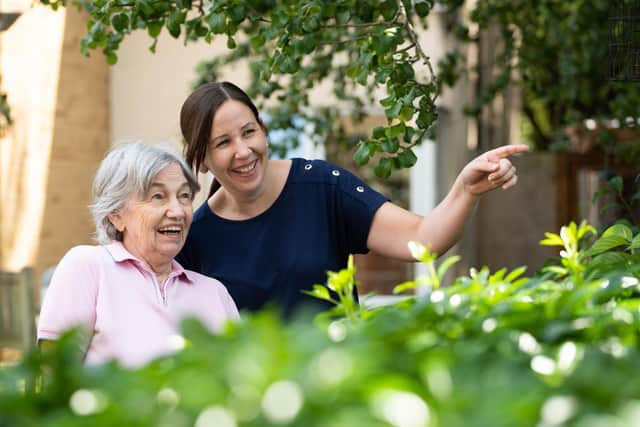 Mulberry Court, a beautiful residential care home in Chalfont St. Peter has undergone a complete refurbishment
The homely, stylish setting has a personal, non-institutionalised, feel and is able to welcome families for safe, indoor visits. Potential residents and their families visiting Mulberry Court will be immediately impressed with the styling and décor throughout, created by award-winning interior designer Diana Cellella. Residents can enjoy all of home comforts – newspapers delivered to their door, an evening tipple with dinner, even a trip to the hairdressers, which is available within the comfort of the care home
The all-inclusive package at Mulberry Court means everything is paid for. This includes care, meals, accommodation together with many of life's little extras -a weekly style and blow dry, a glass of wine with friends, a visit to the on-site coffee bar, chiropody appointments and even day trips out to enjoy the area. Chloe Graur, home manager, says: "Potential new residents and their families can call to speak with me or our Family Liaison Manager, Cathy Charles. They can also book an appointment to view or even call in without an appointment. The team are ready and available to safely show families around all the facilities.
She added: "With the design of Mulberry Court we've gone for a boutique, modern style, whilst also maintaining a cosy, homely feel with lots of little touches to ensure people feel that our home is their home. There are raised flower beds and veggie plots for anyone who likes gardening together with three lounges and two dining rooms."
With a highly trained and dedicated team of colleagues every resident is made to feel welcome and special, and their personalised care package is tailored to suit their individual needs at all times.
The rooms are all en-suite and wheelchair accessible, and have TV and phone points and a 24-hour call system for support. While the rooms are beautifully furnished, residents are welcome to bring with them any touches from home to make their space their own.
Mulberry Court in Gold Hill East, Chalfont St. Peter is part of The Fremantle Trust and is suitable for anyone over the age of 70 who wants to be part of a vibrant, homely community, where the emphasis is on inclusive, joy-filled living.