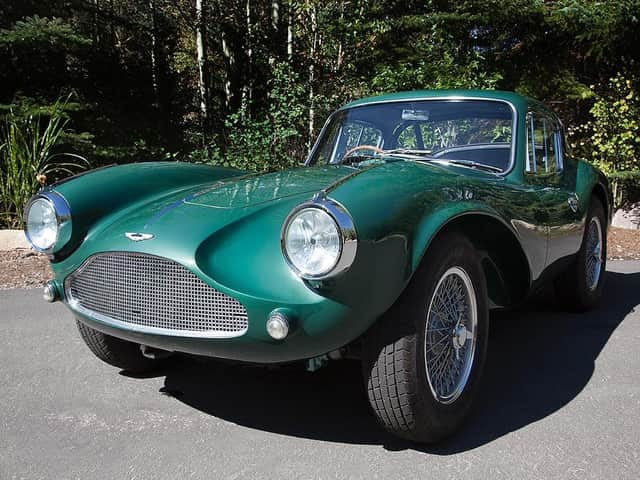 DB3s Coupe
Long seen as one of the quintessentially "British" sports cars, Aston Martin is one marque that will uniquely feature across almost every class in this year's concours d'elegance at Auto Royale to be held at Waddesdon Manor between July 16 and 18.
"Gathering ten of the most interesting and valuable Astons spanning 65 years has been no small task but Event Director, Paul Mathers notes in understatement: "I believe we have a few that are quite special !"
He added: " The oldest is a newly-restored, 1924 1 ½ litre side valve example with four-seater bodywork by Albany, and at the other end of the spectrum, both age and aesthetics wise, is a 1985 V8 Vantage Zagato prototype."
Paul said: " In the middle are two jewels of the Feltham and Newport Pagnell output, coming from arguably the first "Glory Years" of the marque, in the 1950s, the second decade of David Brown ownership.
"From 1954 is the unique DB2/4 Coupe by Vignale.
"Originally styled for his Majesty King Baudouin of Belgium, the eldest son of King Leopold, this was the late King's transport of choice throughout his reign."
King Baudouin reigned from the time of his father King Leopold's abdication in 1951 until his death in the early 1990s.
DB3S Coupe's in period at le Mans
This one-of-a-kind example has been the subject of an exacting restoration at County Durham's "Aston Workshop" whose proprietor, Bob Fountain notes, 'This is one that I have always taken a great deal of pride in, both in carrying out the restoration and in sharing the result with others who appreciate such motor car excellence.'"
He added: " Joining the DB 2/4 to showcase the 1950s is a competition bred DB3S Coupe. The factory fielded two such coupes at Le Mans in 1954, but they had serious aerodynamic flaws, and both crashed at high speed, even though the drivers of the Coupes were such aces as Prince Bira, Peter Collins, Ian Stewart and Graham Whitehead.
"The glorious example attending Auto Royale is DB3S/120 – David Brown's personal car, never raced by him, but campaigned in period by Jean Bloxham and Peter Sutcliffe. Later owners of 120 have included Paul Vestey, Frank Sytner, Lord Bamford, William Loughran, Victor Gauntlett and Paul Michaels. The car has starred at Pebble Beach and joins Auto Royale as a celebrated and unique example."
List of Aston Martins that will be on display:
1924: 1.5L Side valve open four-seater by Albany
1930: International by James Young
1954: DB2/4 Coupe by Vignale
1959: DB2/4 Mk III Convertible
1963: DB4 Series 5 Vantage SS
1985: V8 Vantage prototype by Zagato