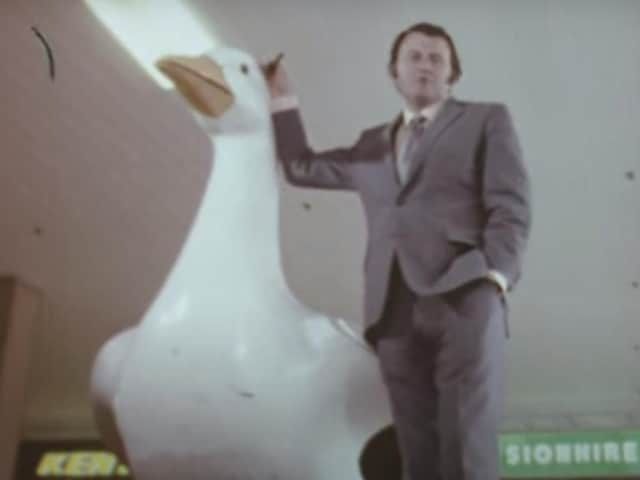 Bill Grundy with Aylesbury's 'best known export'
The video starts with, 'wow' what a beautiful place as viewers are treated to the classic buildings in Aylesbury's Old Town.
But that quickly changes as Bill Grundy takes the viewer through what he describes as "appalling" and "brutal" redevelopments.
The video is narrated by William Grundy, a famous television presented from the 70s who presented a show called "Today".
"Aylesbury, Buckinghamshire's best known borough.
"Clearly in matters of development, Aylesbury has a lot to beat other towns.
"However in matters of re-development, Aylesbury shows us very much how not to do it."
The video cuts from the idyllic old streets of St Mary's and the Old town to the 'horrors' of The Buckinghamshire Council Building, the old Wimpey resturant and old shopping precinct.
He continued: "There can be few other cases of redevelopment so badly matched to a town than those that have taken place in Aylesbury.
"To be fair not everything about Aylesbury's is so bad.
"The move from high street to brand new shopping centre 'raised a lot of hackles' but it appears to be working, judging my the amount of shoppers using it"
Little did he know that the old shopping precinct was to be knocked down.
The video goes on to discuss Fred Pooley, the Bucks County Architect responsible for many changes in the town across the years.
Mr Grundy goes on to describe the Council Building designed by Pooley as 'an appalling edifice'.
He said "Perhaps Mr Pooley's smugness comes from the fact that as you sit up in the Council Building, he's happy because he cannot see it.
"This is a relief because from the outside it's hideous, and dominated the town."
"As a piece of planning, it does works.
"People come from all over the country to see how all the pieces fit together."
He goes on to question, why Aylesbury?
"Why Aylesbury I wonder, it sticks out like a sore thumb.
"The contrast with the gentleness of the old marketplace is quite shrieking.
"Through you wouldn't think it Aylesbury is a pretty historic place.
"The Britons and Saxons were fighting for it as far back at the 500 and something."
The video also discusses Aylesbury's Civil War Connections.
Mr Grundy goes on to talk about the History of the Kings Head and Oliver Cromwell staying at the pub.
What do you think of the video?
Does Fred Pooley have a lot to answer for?