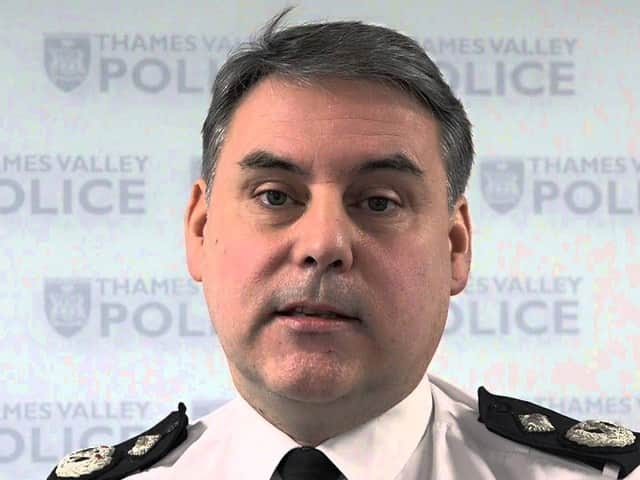 Chief Constable John Campbell QPM
In 1988, I began my policing career in the West Midlands, transferring to Hampshire Constabulary in 2001, however I didn't have involvement in policing Royal events until I moved to Thames Valley Police in July 2010.
When you become a police officer, you swear an oath of affirmation to the Queen, which you keep in mind throughout your duty and it is something I have kept in mind throughout my career
As a Chief Officer within Thames Valley Police with responsibility for Berkshire, Operations and then Crime, my career began to involve the responsibility for policing a number of Royal events or events attended by the Royal family. There are many annual events the royal family attend in these areas which are given support by Thames Valley Police like Royal Ascot, which I have been honoured to be Gold commander for. Every year Thames Valley Police is involved in such events and we have a clear duty to ensure Her Majesty's and the Royal family's protection as well as the public.
In 2012 when London hosted the Olympic Games, a number of events were hosted within the Thames Valley and of course the Olympic Torch Relay travelled through our region. As the Gold Commander for the Olympic security operation one of my most significant Royal memories was when The Queen and The Duke of Edinburgh welcomed the torch and barer to Windsor Castle.
In 2013, I was involved in an event to police a state visit of Sheikh Khalifa of the United Arab Emirates. He was a guest of HRH The Queen at Windsor castle for two nights.
During 2014 we saw some of the worst flooding across the region, especially in Datchet, Berkshire. While working to help keep people safe during this major incident, The Duke of Cambridge and The Duke of Sussex made their way to the area and helped in the efforts to relieve the flooding by moving and stacking sandbags. This was another operation I was very proud to command.
The work I did leading this multi-agency major incident, policing the Olympics and within Counter Terrorism Policing was later recognised by the Queen as I received a QPM in 2015. I was absolutely thrilled, proud and delighted to receive a QPM which was given to me by The Duke of Cambridge in Windsor on behalf of The Queen.
The Queen turned 90 in 2016 and she hosted a number of events in Windsor, I was fortunate enough to meet her at one of these celebrations. I distinctly recall it was a very hot day and The Queen was on her feet for a very long time meeting representatives from a number of local organisations. It must have been such hard work, but she was absolutely brilliant.
I've been lucky enough to meet The Queen on several other occasions. She was always very gracious, kind and complimentary of the work of our officers and staff. When you think of how long she has been doing that job, it really is extraordinary.
It's important to remember that we have the honour of having The Queen and the Duke of Edinburgh as our local residents here in the Thames Valley.
I am so proud and honoured to lead a police force that gets the opportunity to work with the Royal Family on so many occasions. We always receive letters of thanks from the Queen's private office after policing Royal events which is an extra special little touch of thanks.