Son shares story of 'war hero father' who won a commendation for the evacuation of Dunkirk
As we look back on the anniversary of Dunkirk, a local historian has shared a story of an Aylesbury hero, who was mistaken for a coward when meeting King George VI.
Monday, 1st June 2020, 4:08 pm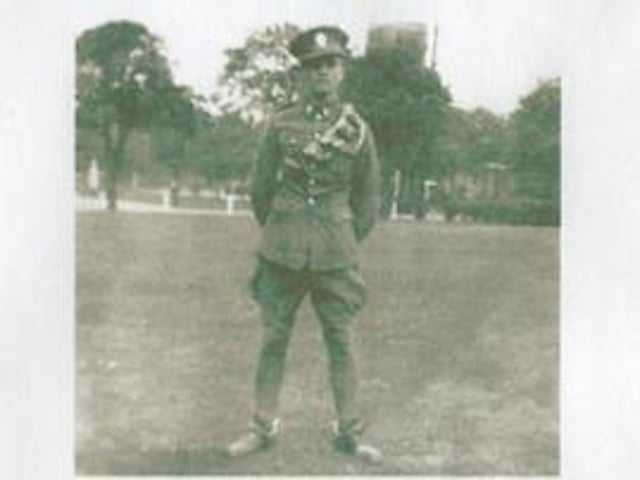 Albert John Hardy
Albert John Hardy, from Aylesbury became a celebrated war hero after showing 'extreme bravery' during the evacuation of Dunkirk.
He was part of the British Expeditionary Force which was dispatched in 1939 to Renescure, a small town in Northern France as part of the 58th Chemical Warface Company.
He was part of the efforts to help fortify the defences between St. Momelin and Wittes.
On may 23 1940, Albert was driving one of the five armoured cars sent forward to observe the St. Omer area, and help to save the Royal Engineers troops who were isolated by the enemy.
The group immediately came under heavy artillery fire from the Germans.
The group were able to cross the vital strategic point of the canal, and inflicted a number of casualties on German forces amidst intense fighting.
After the scuffle, the forces were told to return to Dunkirk.
However Mr Hardy realised that two men from his car were missing.
He was in a precarious situation, as his truck was laden with ammunition and bridge demolition explosives - to head back into hostile territory would be extremely dangerous.
Despite this, he continued to find his men.
On return to 'The Chateau', they were subjected to heavy enemy fire once more in an extremely 'volatile' situation.
The Germans had occupied the area and the two men were nowhere to be seen.
During the ensuing gunfight, Albert had the gunstock of his rifle blown clean off.
A fire erupted in his truck, and thanks to Albert's quick actions the fire did not spread to the explosives which would have had catastrophic consequences.
The group began the long arduous journey back to Dunkirk, which took two days to travel just twenty miles.
On the route home he was subjected to heavy enemy fire, blocked roads and aircraft strafing, and they served as target practice for enemy tanks.
On arrival back to Dunkirk, Albert began work on repairing an abandoned coal barge which then served to help ferry people back across the English Channel.
For his bravery, Albert was invited to Buckingham Palace to recieve a military medal for gallantry.
The medal would be presented by King George IV.
However, there was a mix up at the ceremony as Albert didn't dress in his military uniform.
Conscientious objectors were often presented with 'white feathers' by women - who gave them out to men who were not in uniform as a 'sign of contempt' for what they saw as cowards who should have been fighting for their country.
While Albert and his wife were walking to Buckingham Palace, he was presented with a 'white feather' by a lady in the street to mark him out as a coward.
Rather than tell the lady of her mistake, Albert and his wife burst out laughing and explained they were on their way to Buckingham Palace to receive honours for bravery!
Albert explained the story to King George IV at the ceremony, who laughed and said that it was shameful that such a brave man could be mistaken for a coward!
Albert John Hardy lived in Aylesbury for many years with his wife Rosina.
He died in 2006 just before his 92nd birthday.
He is commemorated by a plaque close to the British War Graves in Renescue Cemetary.
His wife Rosina died in December 2017, aged 100.