Looking back on the 33rd Anniversary of when Bobby Robson's England team came to Aylesbury
Yesterday Marked the 33rd anniversary of when some very famous faces came to Aylesbury.
Tuesday, 8th June 2021, 11:28 am
Updated
Tuesday, 8th June 2021, 11:30 am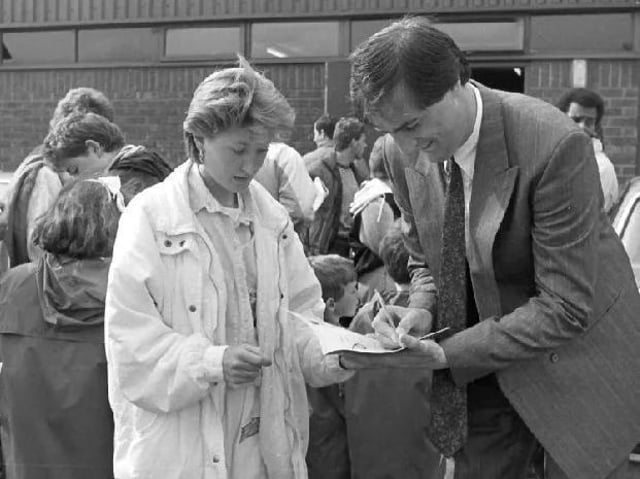 Aylesbury United's Cliff Campbell signing autographs before the game which attracted a record crowd of 6,000 to Buckingham Road
Bobby Robson bought his England superstars to Aylesbury as a warm up to Euro 1988.
Things didn't go to plan for the three lions at the tournament, losing three out of three, but they ran out 7-0 winners on the day.
Including a Peter Beardsley hat-trick.
Aylesbury United's manager and Sir Bobby Robson - who was heavily criticised for arranging to play non-league Aylesbury United in a warm-up game before the 1988 European Championships
Legendary manager Sir Bobby, pictured here talking to the media at Buckingham Road, passed away almost 10 years ago in 2009
Chris Waddle, David Seaman, Mark Wright have a look at the Buckingham Road pitch before the big game
Bryan Robson and Peter Shilton lead England out
Bobby Robson in shot with Ducks record goalscorer Cliff Hercules
Aylesbury legend Cliff Hercules closed down by Mark Wright
Peter Beardsley on his way to a hat-trick in the 7-0 win
Handshakes before kick-off
Peter Shilton tips one around the post
Packed to the absolute rafters
The England team that would go on to lose all of their games at Euro 88
Gary Lineker, Mark Wright and John Barnes
The tricky Chris Waddle working his magic on the wing
Could you imagine this happening today?
Beardsley lifts his man of the match award as Robson watches on