Former Aylesbury model celebrates 104 years with 104 birthday cards
There were celebrations at Fremantle Court care home in Aylesbury this weekend to mark the 104 th birthday of Phyllis Williams.
Wednesday, 10th March 2021, 10:52 am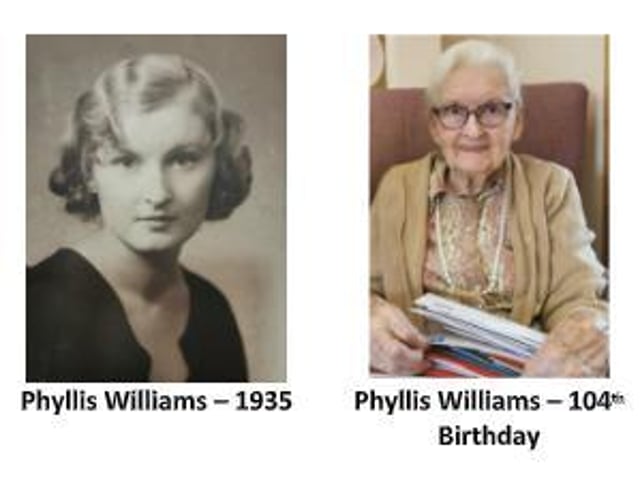 Many happy returns Phyllis
Phyllis, who was born in 1917 just before the end of the first world war, spent many years as a fashion model featuring in catwalk shows, modelling for department stores and in catalogues and magazines.
Her birthday wish was to have a makeover, which the team at Fremantle Court arranged, by helping Phyllis with her make up before her family visited.
Phyllis explains: "To this day, I style my own hair and always like to look and feel good".
Phyllis was a model in the 1930s
Phyllis lived independently until she was 101 and has been living at Fremantle Court since.
Asked for the secret to living such a long and healthy life, she commented: "It just seems to run in the family . My mum passed away at the age of 106, just before her 107 th birthday and her sister reached 107 years old. I also have a very big family, which keeps things interesting."
Thanks to the kindness of the local community, Phyllis received over 104 cards together with gifts from her family and close friends. All five of her children were able to visit during the day using a designated area,
which had been set up to facilitate safe visits and on this occasion was decorated with balloons and streamers!
Ewa Banaszcyk, Leisure and Lifestyle Team Manager, was involved in planning Phyllis' birthday celebration and said: "Phyllis really is an extraordinary women, so we wanted to make sure she had a day to remember.
We reached out the local community via social media, asking for cards and well wishes and at the last count, Phyllis had received 107 cards! She is planning to read through all of them and was blown away by the kindness offered to her.
"The Fremantle Trust are delighted to be part of the local community and would like
to thank everyone who sent birthday cards."