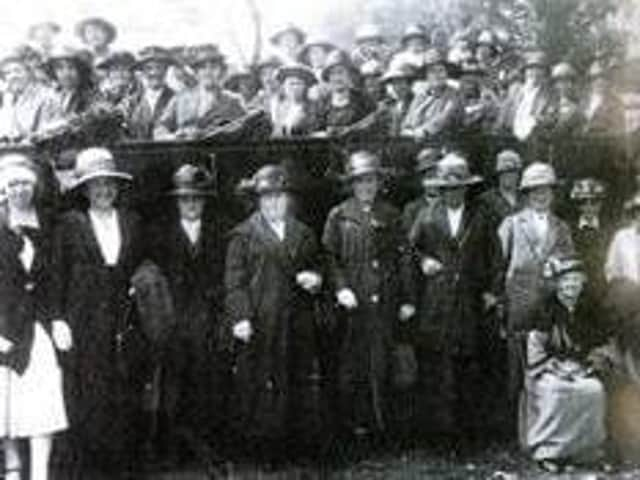 Hyde Heath WI in 1920
Founded in 1920, there are now 4,000 members of the BWI belonging to 119 different groups across Buckinghamshire.
Unfortunately because of the Coronavirus pandemic, celebrations have had to have been put on ice.
However ladies involved in the federation said that hasn't dampened their pride in the slightest.
Jenny Street, then-chair of the Bucks Federation of the WI accepts a citation from the High Sheriff of Buckinghamshire in 2016
Jo Wareham, Press Office for Buckinghamshire Federation WI said the first meeting of took place in 1920 at the Judge's Lodging in Aylesbury's Market Square.
She said: "The Federation Chairman was Mrs. Wesley Taylor and the Federation President was the Lady Susan Trueman.
"The first Federation office was in the home of the Secretary, Mrs. Woodgate, at 749 London Road, High Wycombe whereas we now have our own premises on Stuart Road.
"In 1920 the annual subscription was 2/- (2 shillings) which is about the same as 10p one hundred years later."
Hyde Heath WI went on an outing to Clacton in a magnificent charabanc the same year, and WIs were formed at Bledlow, Bradenham, Brill, Denham, Ickford, Milton Keynes & Broughton and Stone with Hartwell.
She added: "Some of these are still in existence so happy centenary this year to those WIs too!"
BWI had planned to have a grand parade of banners around the centre of Aylesbury, however this has been suspended because of the Coronavirus lockdown.
Jo continued: "We've been very busy supporting Buckinghamshire Healthcare NHS Trust, the South East Ambulance service plus many other establishments around Buckinghamshire and Berkshire with our scrubs laundry bags and buttoned headbands – almost 7000 bags have been sewn and distributed within a month!
"Those linen cupboards never looked so bare!
"The indomitable, resilient and inspiring characteristics of the WI members are still of value now as they were 100 years ago. Thank you to all our members for their continued support."
The WI is a democratic, social and educational charity operating throughout England and Wales.
Membership of your local WI entitles you to attend 11 free meetings a year with speakers, demonstrators or entertainment as decided by members.
You also receive the WILife membership magazine, delivered to your door eight times a year. Other gatherings, such as craft clubs, ramblers, discussion or drama groups and choirs, are also often offered by individual WIs.
Federation events are organised throughout Buckinghamshire and appeal to anyone with interests in art and crafts, sports and leisure, drama, public and international affairs, ecology and conservation and more.