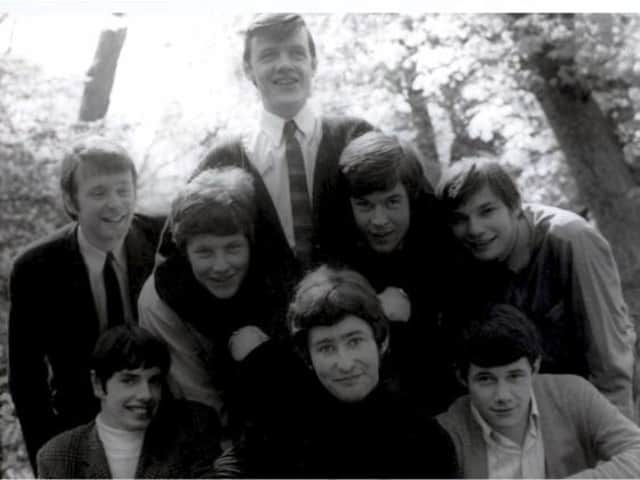 GEARBOX John Parslow (top), LtoR Alan White, Nigel Mendy, Dick Willmot, Steve Pitcher, Bottom Row L to R David Stopps, Dave Powell (centre) and Terry Croker.
Dave was always involved with the Aylesbury music scene from the sixties onwards and played in many bands.
One of the earliest bands he played in was soul band Gearbox who were voted Bucks Group of the Year 1966.
The 1966/67 Gearbox was Dick Willmot on vocals, John Parslow (bass), Alan White (guitar), Nigel Mendy (percussion), Steve Pitcher (tenor sax), Terry Croker (trumpet), myself (keyboards) and Dave on drums. I remember Dave was always very enthusiastic about the music and encouraging for the other band members.
Wishing Well back row LtoR Polly Holding, David Alec White, Heather Gambier, Jim Barratt, Dave Powell.
Later in 1976, Dave joined the band The Dodgers with Aylesbury's John Wilson and ex-Badfinger musicians Tom Evans and Bob Jackson. They were immediately signed to Island Records and their first single 'Don't Let me be Wrong' made it to the Billboard Hot 100 in the US.
Many local musicians were impressed that Dave was in such a prestigious band. Marillion's Pete Trewavas remembers:
"Dave was a gentle soul who always seemed to have the time to chat and be genuinely interested in what you had to say and as a young budding musician I thought Dave playing with members of Badfinger was incredibly cool."
Aylesbury guitarist Robin Boult recalls: "As Pete says, Dave was a gentle soul and I did have the pleasure of playing in a band with him for a while.
THE DODGERS Tom Evans, John Wilson, Bob Jackson and Dave Powell (far right) 1976
"I got to know Dave more through John Wilson who after he left the Dodgers, decided to form a new band ( The Heartbeats )… terrible name I know and he asked me to join.
"Obviously as a young Aylesbury musician I was thrilled to play with anybody connected to Badfinger.
"Dave always offered a kind word and support. Later, when the band fell apart, I joined a band called & Danny Picasso and the last good kiss'…
"Dave was the drummer and we ended up spending 2 months in the states playing clubs around New York. I remember, Dave always had a smile on his face and never a bad word."
Dave was also in Revolver with 'Rockin' Ray Smith and Aylesbury guitarist Martin Pooley.
Martin said: "He was the first drummer in Revolver back in the late 70s. I had built an electronic drum machine from assorted spare components, affectionately known as Animal.
"Rockin' Ray, Animal and me had been playing a few gigs with varying degrees of success and Dave saw us one night at the Britannia pub in Aylesbury. He asked if we'd like a real drummer.
"I was amazed because I'd always held Dave in very high regard, but of course I said yes.
"I don't think we ever rehearsed but we played a number of storming gigs in the local area.
"A great drummer, a friend, and some wonderful memories."