Remember, remember first aid in November
St John Ambulance issues simple first aid advice to help keep communities safe during Bonfire Night and Diwali celebrations.
Watch more of our videos on Shots! 
and live on Freeview channel 276
Visit Shots! now
First aid and healthcare charity St John Ambulance is urging everyone to learn some basic first aid skills ahead of Bonfire Night and Diwali celebrations.
Volunteers from St John will be out and about, keeping communities safe at dozens of fireworks and Diwali events across the country so that anyone who needs first aid gets it quickly. However, injuries are much more likely to occur at private parties, where trained volunteers won't be on hand to help.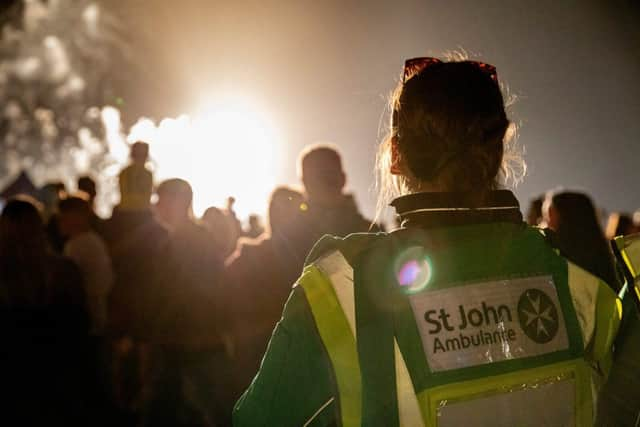 Thousands of people visit A&E every year for treatment of a firework-related injury but knowing some basic first aid skills to help in a firework first aid emergency can be vital to help prevent avoidable trips to hospital, reducing pressure on the NHS.
Dr Lynn Thomas, Medical Director at St John Ambulance, said: "Our highly-skilled volunteers are a familiar sight every year as they keep local communities safe at many firework events and Diwali celebrations across the country. Their presence will be a reassurance that, should anyone need first aid assistance, there is someone with the correct training on hand.
"For those celebrating at smaller community events, we would, as ever, urge extreme caution and advise strictly following instructions when handling, lighting and watching fireworks. In those unfortunate instances when someone has a minor injury, knowing what to do and acting fast can prevent further harm and relieve suffering. However, always dial 999 in the case of serious injuries."
St John Ambulance's Firework First Aid
If someone's got a burn or scald:
Move the person away from the heat and danger
Start cooling the injury as soon as possible. Place the burn or scald under cool water for 20 minutes minimum
If the burn is deep, or larger than the person's hand, on their face, hands or feet, or the casualty is a child - call 999 immediately
Remove jewellery and clothing around the area, unless stuck to the burn
Cover the burn loosely, lengthways with kitchen film wrap to help prevent infection and keep it clean
Don't burst blisters
Monitor and treat for shock if necessary
Always seek further medical help if you are concerned about a change in someone's condition, or if the casualty is a child. Call 111 for urgent medical advice, or 999 in an emergency.
If someone's got something in their eye:
Tell them not to rub it, so they don't make it worse or cause more damage
Pour clean water over their eye to wash out what's in there and/or to cool the burn
If this doesn't work, try to lift the debris out with a damp corner of a clean tissue
If this doesn't work either, don't touch anything that's stuck in their eye – cover it with a clean dressing or non-fluffy material
Then take or send them straight to hospital, however as not every hospital has an eye department, ring 111 to locate the most appropriate facility to go to.
If someone's inhaled smoke fumes:
Move them away from the smoke so they can breathe in some fresh air
Help them sit down in a comfortable position and loosen any tight clothing around their neck to help them breathe normally
If they don't recover quickly, call 999 for an ambulance. Keep them calm whilst they are waiting.