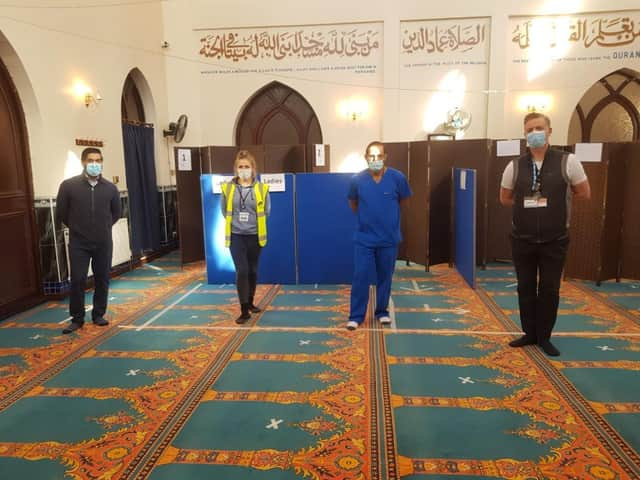 The pop up vaccination site at Aylesbury Mosque
The Aylesbury Mosque was transformed into a 'pop-up' COVID-19 vaccination clinic over the weekend, as vulnerable members of the community stopped by to get their jab.
This pop-up centre – the first of its kind in Buckinghamshire – was operated by members of the team at the Stoke Mandeville Stadium Vaccination Centre, with the support of key members of the community.
Nationally, data has shown that vaccination uptake is lower amongst people from black, Asian and minority ethnic (BAME) backgrounds. Experiences from earlier stages of the pandemic also show that COVID-19 has disproportionately affected people from BAME communities, making it vital for them to get their vaccinations when invited to do so.
According to a report by the British Medical Journal:
"Data to 14 February 2021 show that over 90% of adults in Britain have received or would be likely to accept the covid-19 vaccine if offered
"However, surveys have indicated much greater vaccine hesitancy among people from some ethnic minorities.
"In a UK survey in December 2020, vaccine hesitancy was highest among black (odds ratio 12.96, 95% confidence interval 7.34 to 22.89), Bangladeshi, and Pakistani (both 2.31, 1.55 to 3.44) populations compared with people from a white ethnic background."
Pop-up clinics like the one at Aylesbury Mosque aim to encourage greater uptake of vaccinations with the support of trusted local figures. They also offer a more convenient location to be vaccinated for many people, alongside the nine GP led vaccination sites across Bucks, one national vaccination site in Aylesbury, and eight pharmacy led sites in the county.
Dr Sajid Zaib, Clinical Lead for the Stoke Mandeville Stadium Vaccination Centre and GP at Oakfield Surgery, said: "The pop-up clinic went really well over the weekend and it was great to see so many people come to the mosque for their vaccination. It is part of our vision in Bucks to remove barriers to people accessing the vaccine. By actively engaging with the community, often with local healthcare professionals who speak the same language, we can reinforce our message about how important it is to get a vaccination in a very positive way.
"It is understandable that people may have some reservations about the vaccine, but it is really important to stress that the vaccine is safe and has been very rigorously tested. There is also a lot of misinformation being spread about the vaccine that simply is not true. COVID-19 has badly affected people from black, Asian and minority ethnic backgrounds, so it is vital that people from all communities take up their offer of a vaccination when it comes. It is the only way they can protect themselves, their loved ones and everyone around them as we try to get back to a more normal life."
Also actively involved in arranging this vaccination site were Dr Shaid of Poplar Grove Practice in Aylesbury, Dr Hyder of Water Meadow Surgery in Chesham and Dr Munir of Haddenham Medical Centre.
More pop-up vaccination sites in Buckinghamshire are now being planned.
Dr Raj Bajwa, Chair of NHS Buckinghamshire Clinical Commissioning Group, added: "We would like to thank everybody at the Aylesbury Mosque for their invaluable support of the vaccination rollout and for helping make this pop-up site such a success. Initiatives like this are really important to ensure the vaccine reaches as many people as possible and we look forward to continuing to work with local communities across Buckinghamshire as the rollout progresses."
The vaccination team at Stoke Mandeville Stadium is made up of GP practices across the Aylesbury area all working together, with support from Buckinghamshire Fire and Rescue Service and hundreds of volunteers.