Muslims in Bucks asked to refrain from Hajj bookings amid coronavirus uncertainty
The Council of British Hajjis is encouraging Muslims in Buckinghamshire and across the UK to refrain from making Hajj bookings due to uncertainty around the ongoing impacts of the coronavirus pandemic.
Watch more of our videos on Shots! 
and live on Freeview channel 276
Visit Shots! now
Buckinghamshire and Surrey Trading Standards are encouraging people to be especially wary of scammers looking to gain access to personal information and banking details by offering refunds on travel expenses.
They are reminding people that it is very important not to give personal or sensitive information to anyone they do not know.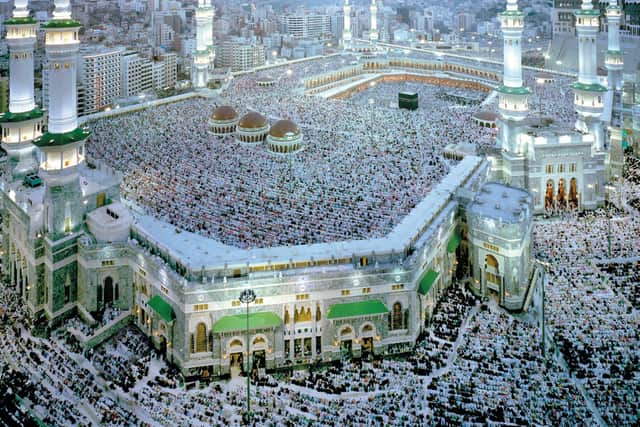 Each year up to 25,000 British Muslims travel to Mecca in Saudi Arabia for the Hajj pilgrimage during the twelfth month of the Islamic lunar calendar.
The approximate dates for the 2020 Hajj are 28 July to 2 August.
This year however, due to the outbreak of coronavirus, Saudi authorities have suggested that travellers delay plans to visit Mecca.
The Umrah pilgrimage has already been suspended and there is mounting uncertainty over whether Hajj will take place this year. The Foreign Commonwealth Office has advised people against all non-essential travel worldwide for an indefinite period. Those with existing Hajj bookings should avoid making any further instalment payments until more information about future travel restrictions is released.
Action Fraud have issued the following guidance to anyone wishing to make Hajj bookings for 2021, or when travel advice changes:
- Do your research. Don't book without carrying out some basic checks on your travel company
- Make sure your travel company is a member of a recognised trade body, such as ABTA
- If you are booking a flight based package make sure your travel company is ATOL (Air Travel Organisers' Licensing) protected by the Civil Aviation Authority
- Get everything in writing
- Do not pay the travel company by cash or direct bank transfer into an individual's account
Isobel Darby, Cabinet Member for Communities said: "Each year there are a very high number of scamming incidents related to Hajj bookings so I would also encourage people to follow the advice set out by Action Fraud.
"I would also urge everyone to follow travel advice issued by the Government and to refrain from making Hajj bookings until further guidance is issued. Anyone who has an existing booking should avoid making additional payments where possible"
If you have information or are worried about scams then please contact Trading Standards by emailing: [email protected] or calling: 01296 388788.
Hajj is one of Islam's five pillars, and Muslims who are able to must perform it at least once in their lifetime.
Umrah is the name given to any pilgrimage to Mecca, a shorter version of the annual Hajj gathering. The word "Umrah" in Arabic means "visiting a populated place".
Umrah offers an opportunity for Muslims to refresh their faith, seek forgiveness and pray for their needs. One who performs it is said to be cleansed of their sins.
Umrah can be performed throughout the year, but Hajj is performed only at a specific time, between the 8th and the 13th of Dhul Hijah, the last month in the Islamic lunar calendar.