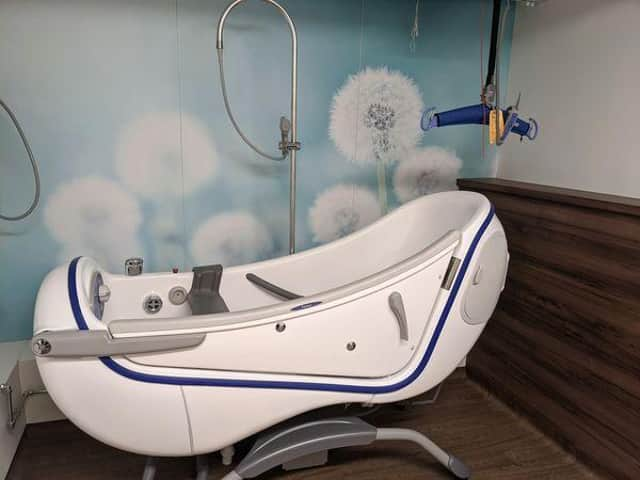 Looking good!
Florence Nightingale Hospice is based on the campus of Stoke Mandeville Hospital in Aylesbury, Buckinghamshire
The Hospice is run by Bucks NHS Healthcare Trust and partly funded by Florence Nightingale Hospice Charity.
Buckinghamshire Freemasons have had a long association with the hospice.
In 2020, the Bucks Masonic Centenary Fund (BMCF) was approached to help fund the refurbishment and refitting of the patient bathroom in the Patient Unit.
They have donated £5,000 to help them achieve their goal.
The aim of the project enables the patients to experience a "spa" experience.
A new bath with a hoist that better suits the room has been purchased.
The walls of the room will be covered in cleanable PVA, which has a "field of dandelions" motif.
This will ensure that the ambience of the room is calming, and the floor will be covered with a dark wood effect vinyl flooring, which is also cleanable.
This new update follows an 'old, tired and outdated bathroom' which was 'not practicable to use'.
For example, a wheelchair-bound patient requiring a host into the bath, would not be able to be dealt with without the bathroom door being left open and a temporary screen used to maintain the patient's dignity and privacy.
The work on the bathroom commenced in January 2021 and is now completed.
The room is now a calming, pleasant zone where patients will be able to take a relaxing bath.
A statement from Buckinghamshire Freemasons said: "We are pleased to announce the completion of the project.
"It's fully installed and ready to offer patients a new and more luxurious bathing experience.
"Florence Nightingale Hospice Charity have always tried to make the Hospice feel like an extension of home as far as they can, but the bathroom had fallen short of this aspiration over the years.
"Now it very definitely stands out as one of the Hospice highlights and shows what the Charity is able to achieve with the support of donors from around the community.
"They wanted to thank everyone for helping to reach their goal and to make a difference.
"In the words of their very excited Ward Sister, '"Being able to help patients with something that will improve their wellbeing is hugely satisfying".
"The nursing team are awaiting training on the use of the bath and hoist before being able to fully benefit from the new bathroom, so it is hoped that one final update will be coming in a few weeks when they will have some feedback on the real impact that the bathroom is having for the patients and the nurses."